Artur Hojan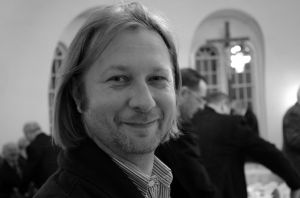 Artur Hojan

Artur Hojan was born on 7 August 1973 in Glogow, Lower Silesia in Poland. He lived in Koscian and he graduated from the Technical Secondary School there and he went on earn a degree in Geology at the Adam Mickiewicz University in Poznan. After his graduation he sought a career as a journalist and reporter, and he was awarded a journalism prize in a national competition named in honour of Stefan Batory. Artur loved climbing in the mountains, and was a member of the 'Club Alpine' in Poznan, during his studies. He also loved the sea, was particularly fond of the Baltic coast, and Riga, and his favourite city in Poland was Wroclaw.
He loved reading books and watching films, such as 'Knife in the Water.' His favourite actor was Jack Nicholson and his favourite directors were Roman Polanski and Andrzej Zulawski. He also loved some British television programmes such as 'Fawlty Towers' You rang Mi'Lord'. He was also very keen on listening to music, by such bands as Kraftwerk and Tangerine Dream and the jazz great Chick Corea.
But one of his great loves was history and whilst researching his first book, came into contact with the Nazi Euthanasia murder programme, his book titled 'Terra Incognita' was published in 2002. One of his relatives, his uncle Leszek Wolinski, was incarcerated in Gross Rosen concentration camp and his stories inspired Artur, to research this subject more deeply.
I first met Artur in Krakow, on the ARC trip to Poland in July 2004. Artur acted as a guide, translator, although his English was a bit rusty, as one of the banks in Krakow will testify. Luckily we became firm friends and a year later in September 2005, Cameron Munro and myself re-visited Poland and enjoyed a wonderful trip that visited a number of places, including Poznan, Koscian, Chelmno, Lodz, Warsaw and Treblinka. Artur organised and planned the whole trip, and it was without doubt the best Holocaust related research trip I have ever been on.
Artur was a well respected expert on Herbert Lange and the SS-Sonderkommando at Chelmno, the history of Chelmno death camp, and the Euthanasia actions carried out in Poland, similar to the T4 mass murder programme carried out by the Nazis in the Reich. As a result of our trip and Artur's local knowledge, I published a book on our trip titled 'Postcards From the Past'. Artur designed the cover, and helped me with the text, which gave a day to day account of our trip.
Artur and Cameron had co-founded the 'Tiergarenstrasse 4 Association' based in Berlin, put on a memorable presentation in Koscian during our trip, called 'The Chronicles from Dead Places' The presentation was held in the theatre on Bernardynska Street, was extremely well attended and one of those who attended was Mr Marian Koszewski, a survivor from Auschwitz and Gusen concentration camps, who spoke briefly.
We repeated part of our 2005 trip four years later in 2009, along with my friend Professor Matthew Feldman and Cameron and Artur took care of all the planning and bookings, and we visited a host of places, that included Kolo, Dabie, Kutno, Chelmno and Lodz. We spent a final day in Warsaw, where Artur took us to see a remaining part of the former ghetto wall, what used to be the Gestapo Headquarters in Al Szucha. Artur brilliantly rescued my bag, containing my passport, flight tickets, camera , which I had stupidly left in the taxi, when we arrived at the ZIH building.
We parted at the Warsaw Main Station on 5 June 2009, this was sadly the last time we saw each other in the flesh. Over the years since that day, we spoke via Skype and communicated with hundreds of emails. I watched with pride as Cameron, Artur and others developed the Tiergartenstrasse 4 Association into a well-respected research organisation. They have produced many publications and given lectures on a wide-range of Holocaust related topics.
Following the publication of Artur's book 'Terra Incognita' a fitting memorial was erected in Jarogniewice Forest where the gas vans travelled to from Koscian psychiatric hospital, and where the victims were buried by the Nazis. The unveiling of this memorial was marked by the attendance of Szewach Weiss, the former Israeli ambassador to Poland - and this took place on 25 September 2002.
Artur will be greatly missed by his wife Adrianna and their young daughter Suzie, his other family members,his friends and by all those that knew him. I will always remember him with great affection and will always remain in my heart. I am extremely grateful to Ada, for her contributions to this tribute, that must have been incredibly hard and painful for her. I hope this brings her some comfort and strength.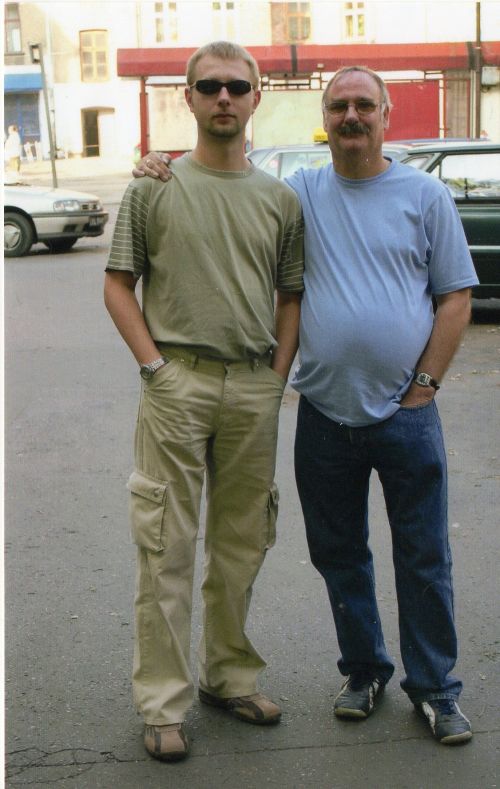 Artur and Chris Webb - Lodz September 2005

In June 2019, I am very pleased to say the work Artur started on the Chelmno Death Camp, which I took on with my own research was published by ibidem-verlag, Stuttgart, in June 2019. It was an honour to write this book and pleased to dedicate it to his memory. The publication leaves a fitting legacy to his lifelong love of history. It is with great pride, that this was realised for a fellow colleague and friend and his family. Details of the book can be found in the Publications Section of this website

Artur Hojan
1973 - 2013
Rest in peace our dear friend. Gone but never forgotten

Photographs kindly supplied by Adrianna Hojan and Chris Webb
Photograph Taken by Cameron Munro
Thanks to Jerzy Szygula for his friendship and support
Chris Webb with much help from Ada Hojan and The Family Hojan
© Holocaust Historical Society 2019