Kurt LISCHKA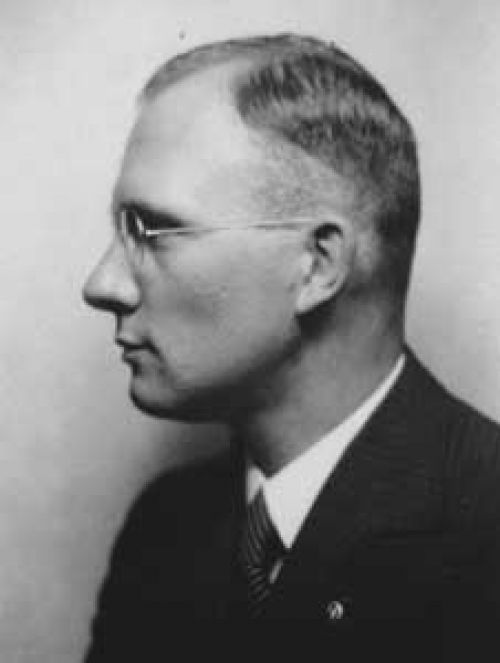 Kurt Lischka

Kurt Lischka was born on August 16, 1909, in Breslau. He was the son of a bank official and after studying law and political science in Breslau and Berlin, Kurt Lischka was active in different district courts and worked in the Provincial Court of Appeal in Breslau. He entered the SS on June 1, 1933, reaching the rank of SS Major five years later and being promoted again to the rank of SS-Lieutenant -Colonel on April 20, 1942.
On September 1, 1935, Kurt Lischka joined the Gestapo and in January 1940, became head of the Gestapo office in Cologne. Kurt Lischka was transferred to France, he became Helmut Knochen's deputy in 1940, within the Security Police and SD throughout the occupied French territory. He also served from January 15, 1943, as Commander of the SIPO and SD in Paris, as well as the chief of the department which oversaw the internment camps.
Lischka's forte however, was the 'Jewish Question' in which he had specialised since 1938, when he had been appointed head of the Reich Centre for Jewish Emigration in Berlin and he played a key role in the deportation and murder of 80,000 Jews in France.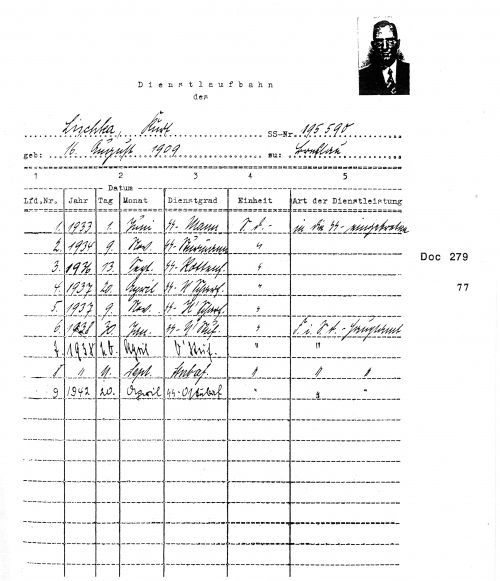 Kurt Lischka - Extract from his personal file (Wiener Library)
Kurt Lischka was arrested on December 10, 1945, after going into hiding in Schleswig-Holstein. He was interned by the British and then by the French, before being handed over to the Czechs on May 2, 1947, for his activities at the end of the war, when he was head of the Referat for the Bohemian Protectorate in the Reich Main Security Office (RSHA). He was released and he returned to West Germany on August 22, 1950.
Lischka lived unmolested in the Federal Republic even though a French court sentenced in absentia to hard labour for life on September 18, 1950, for his wartime role in the 'Final Solution' in occupied France. Lischka worked for a time as a commercial employee and even became a judge in the Federal Republic, his life-sentence given by the French courts notwithstanding.
In West German law, Lischka could not be extradited to France to seek a re-trial and Serge Klarsfeld, a French-Jewish lawyer, himself a Holocaust Survivor, and his German-born wife, Beate, attempted to kidnap Lischka in 1974, in order to take him to France, to face justice at a re-trial. The kidnapping attempt was foiled, but it gained widespread publicity for the case. The publicity caused the West German authorities to act and a trial was held in Cologne of Lischka, and two other Germans, Ernest Heinrichsohn, and Herbert -Martin Hagen, and charges were brought against the men in July 1978.
Ernst Heinrichsohn, served as an adjutant to Lischka in Paris, and since had become Mayor of Burgstadt in Bavaria and Herbert Hagen had been a top SD official in occupied France, who like Lischka had been sentenced in absentia in France to life imprisonment, but had built a successful career as an industrialist in West Germany.
The Cologne War Criminals Trial against Lischka, Hagen, and Heinrichsohn was one of the most important trials of ex-Nazis and on February 2, 1980, the Cologne County Court found Lischka guilty of war crimes and sentenced him to ten years' imprisonment. Hagen also found guilty was sentenced to 12 years imprisonment and Heinrichsohn also found guilty was sentenced to six years' imprisonment.
Kurt Lischka died on May 16, 1989, in Bruhl. Heinrichsohn died on October 29,1994, in Goldbach, and Hagen died on August 7, 1999, in Ruthen.
Sources
R.S. Wistrich, Who's Who in Nazi Germany, published by Routledge, London and New York 1995
G. Reitlinger, The Final Solution, published by Sphere Books Ltd, London 1971
Photograph – Private Archives
Document - Wiener Library
© Holocaust Historical Society 2018