Walter Suskind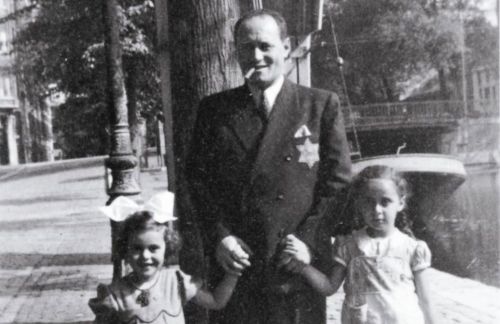 Walter Suskind -Nieuwe Prinsengracht 51 -Amsterdam during the occupation

Walter Suskind was a German Jew, who was born on October 29, 1906, in Ludenscheid, Germany. He had two brothers Karl and Alfred, as well as a foster brother Robert Salzberg. In 1929, Walter Suskind became the Director of Prussian and Polish margarine sales, for the German firm Bolak. During 1935, Suskind married Johanna Natt,.who was born on January 11, 1906, in Geisen, Germany, and in 1937, his foster brother Robert Salzbeg emigrated to the United States of America.

On March 25, 1938, Suskind and his wife, Johanna's mother Fran Natt, and Walter's mother, Flora emigrated to Holland. They live in Bergen op Zoom. On March 28, 1939, Walter and Johanna were blessed with a daughter Yvonne. Walter Suskind starts working for Unilever in a sales role, and he discussed with Robert Salzberg the possibility of emigrating to the United States of America, to work for Unilever there. In June 1941, Salzberg informs the Suskind's that sponsorship has been arranged but a month later the Germans cease all emigration.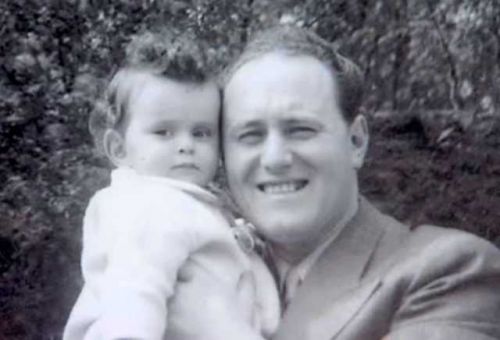 Walter Suskind with daughter Yvonne

Suskind and his family are forced to move to Amsterdam and in July 1942, the Jewish Council in Amsterdam appointed Walter Suskind to manage the Judische Schouwburg - The Dutch Theatre as a deportation centre for the Jews in Amsterdam. Directly across the street from the Schouwburg there was a creche. Tram lines ran on the street between the two buildings, and as the trams passed by children were smuggled out of the Schouwburg, into the creche without being observed by the Germans.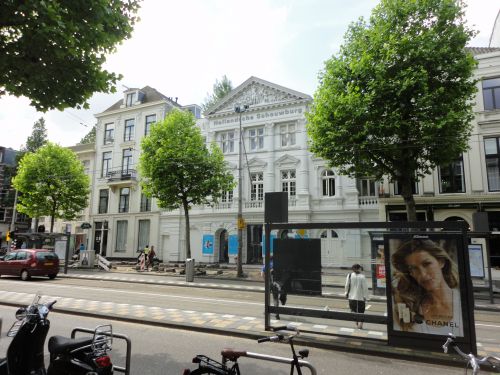 Schouwberg - Amsterdam 2014 (Chris Webb)

During the eighteen months that Walter Suskind was in charge of the Hollandsche Schouwberg and with the help of four separate groups of resistance workers, he was able to save almost one thousand infants and children, as well as many adults. The infants and children were placed in a network of safe houses in the Dutch countryside.

Suskind fraternized with the Nazi officer in charge of the deportations, SS Hauptsturmfuhrer Ferdinand aus der Funten, and he socialised with him and his staff, telling jokes and offering cigars and schnapps to Ferdinand aus der Funten and his staff members. Over time Suskind was perceived by some to be a Nazi collaborator, although in truth this was far from the case. His rescue operations were never betrayed or discovered by the Nazis. Only a few people directly involved with the escapees ever knew the existence and the details of these dangerous rescue missions.

During September 1943, Suskind was arrested and spent three nights in Scheveningen prison, he was released but shortly afterwards the whole family was arrested and incarcerated in the Westerbork transit camp. Suskind was released but his wife and daughter are kept imprisoned at Westerbork and despite several attempts to free them by the Dutch resistance, they all fail.
On September 2, 1944, Suskind learns his wife and daughter are about to be deported to Theresienstadt, and he joins them, and the whole family is deported to the Theresienstadt transit ghetto. On his person Suskind has a forged letter from the Nazis describing how invaluable Suskind had been to the Nazis, and he tried to present this letter to the Commandant of Theresienstadt Karl Rahm, but a Jew intercepted him and pushed him into a cattle car bound for Auschwitz-Birkenau.

The Suskind family were deported from Theresienstadt to Auschwitz on October 23, 1944. Johanna and Yvonne were murdered in Auschwitz - Birkenau on October 25, 1944. Walter Suskind was selected to work. Walter Suskind died during the death march from the camp on February 28, 1945.

Sources
WWW. HolocaustReseachProject. org

Bundesarchiv Gedenkbuch - online resource

Joods Monument

Photographs: Private Archives, Chris Webb Archive

© Copyright Holocaust Historical Society, July 24, 2019