Augustow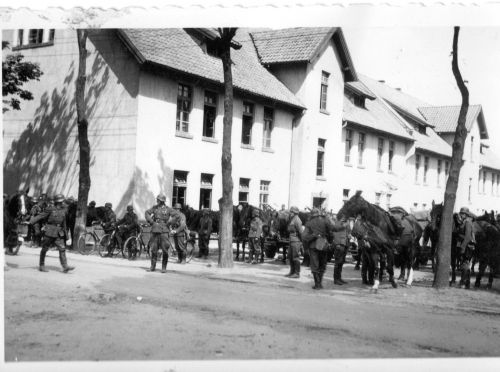 Augustow - German Forces Occupy - (Chris Webb Private Archive)

Augustow lies approximately 60 miles north-northeast of Bialystok and 26 miles northeast of Grajewo. Because of its location near the Polish - East Prussian border, the Germans bombed the Augustow train station on September 1, 1939, but only occupied the town for just two hours before handing it over to the Soviet authorities. In September 1940, 2906 lived in Augustow.
On June 22, 1941, the first day of the German invasion of the Soviet Union the Germans once again occupied Augustow. They established a Polish administration and recruited an auxiliary police force. A Jewish survivor from this time, remembered the force as composed of local Poles, who subsequently, all qualified and registered under Nazi racial laws as ethnic Germans.
On June 24, 1941, a Waffen-SS commander arrested 70 workers and guests of an Augustow retreat centre and executed 30 of the captives -15 Jews and 15 Russians. Operational units organised by Regierungsrat Hans- Joachim Bohme, commander of the Tilsit State Police, was responsible for the subsequent June and July 1941, murders of the Jews of Augustow.
On June 27, 1941, an Einsatzkommando, led by SS-Hauptsturmfuhrer Wolfgang Ilges from Tilsit, ordered the arrest of more than 100 communists mostly Jewish residents of Augustow. Several days later the Germans arrested a furrier and several other Jews, probably for defying orders to return to their homes. Whether the captives were executed immediately or were held and murdered on July 3, 1941, together with 175 more victims remains unclear. What is known is that on July 3, 1941, an operational unit led by either Ilges or by Waldemar Macholl, the Grenzkommissar of the Sudauen border police and soldiers from the intelligence branch of the 87th Infantry Regiment murdered 300 to 316 people, including ten women in two mass shooting 'Aktions' in the Augustow Forest. Almost all of the victims were Jews.