Oswald Pohl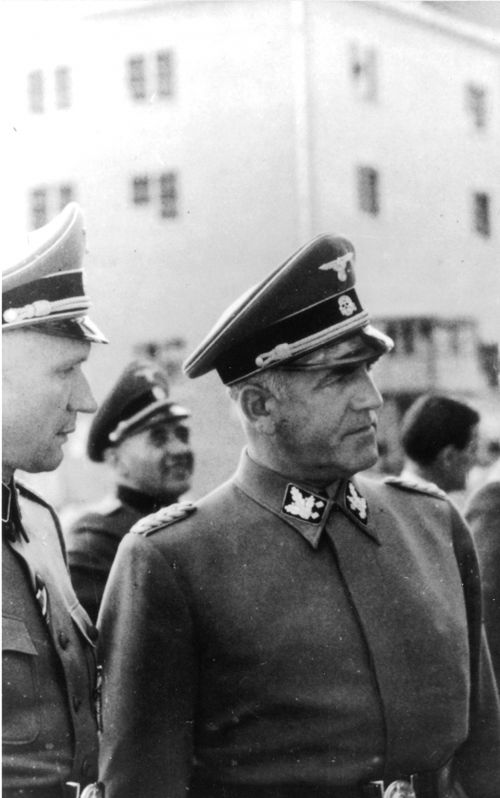 Oswald Pohl in KL Auschwitz - June 16, 1944 (USHMM)
Oswald Pohl was born on June 30, 1892 in Duisburg. After serving in the First World War Pohl entered the Nazi Party in 1922, and four years later was made an SA Leader. A naval officer by profession, Pohl rose to the position of Senior Paymaster captain. His organisatonal talents caught the eye of Heinrich Himmler and on February 1, 1934, Pohl was appointed SS-Standartenfuhrer and Chief Administrative Officer in the Reich Main Security Office (RSHA).

In June 1939, he was appointed a Ministerial Director in the Reich Ministry of the Interior and in the same year he joined the 'Circle of Friends of Heinrich Himmler' - a group of wealthy patrons drawn from the top echelons of industry, banking and insurance, who played a leading role in supplying Waffen-SS units with arms and uniforms during the Second World War, in return for certain practical advantages and honorary rank in the SS.

Oswald Pohl reached the rank of SS-Obergruppenfuhrer and from 1942, until 1945, was a General of the Waffen-SS. During 1942, he was appointed head of the SS-Wirtschafts und Verwaltungshauptamt (WVHA) which was the Economic and Administrative Main Office of the SS. Its sphere covered all works projects for concentration camp inmates as well as the camps inspectorate- altogether a gigantic concern designed to squeeze the maximum use out of captive labour for the profit of the SS.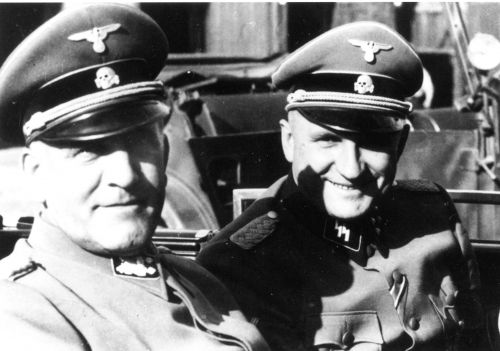 Oswald Pohl left and Auschwitz Commandant Richard Baer - June 1944 (USHMM)

Pohl was thus put in charge of the 'economic' side of the Nazi extermination programme, as part of Himmler's drive for greater efficiency and his desire to secure the financial independence of the SS. Pohl saw to it that all valuables seized from gassed Jewish victims - including clothing, human hair, teeth fillings, gold spectacles, diamonds, gold watches, silverware, bracelets, wedding rings and foreign currency - were sent back to the Reich. Here the booty was melted down and sent in the form of ingots to a special SS account in the Reichsbank.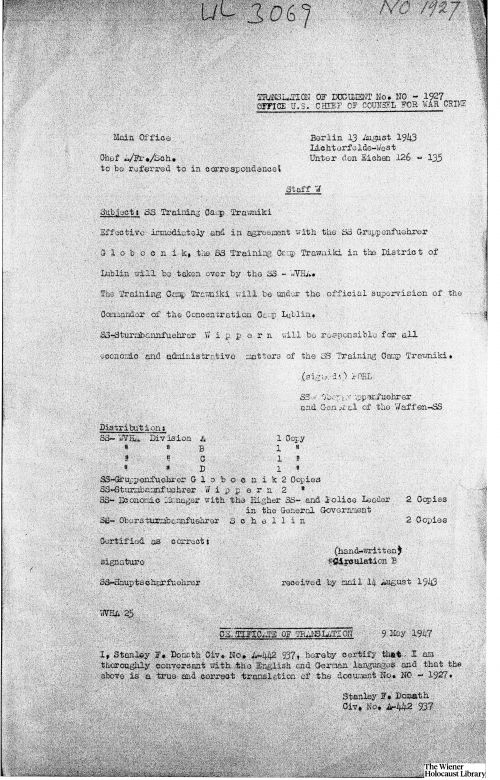 Pohl Directive on the transfer of control to the WVHA (Wiener Library)

Oswald Pohl went into hiding at the end of the war, disguised as a farmhand. He was arrested in May 1946, he initially admitted that the existence of death camps had been no secret in Germany. In the case of textiles and valuables, he declared, everyone down to the lowest clerk knew what went on in the concentration camps. Oswald Pohl was tried on November 3, 1947, by an American Military Tribunal and sentenced to death. After spending three and a half years in a Landsberg prison death cell, he was finally hanged as a war criminal on June 8, 1951.

Sources

R.S. Wistrich, Who's Who in Nazi Germany, published by Routledge, London and New York 1995
Photographs – USHMM
Document - IMT File - Wiener Library London
© Holocaust Historical Society February 29, 2020