Dora - Nordhausen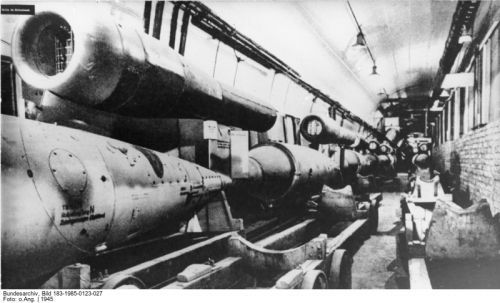 Dora - Nordhausen - V1 production 1945 (Bundesarchiv)

Dora -Mittelbau also known as Dora-Nordhausen was a concentration camp in the Harz Mountains, three miles from Nordhausen, Saxony, in Thuringia, Germany.
The Dora- Nordhausen camp was first mentioned on August 27, 1943, as an external unit of the Buchenwald Concentration Camp. On October 28, 1944, it became an important concentration camp in its own right, with twenty-three branches, most of them in the vicinity, inside a restricted military area. Following Adolf Hitler's August 22, 1943, order for Reichsführer-SS Heinrich Himmler to use concentration camp workers for A-4 production, 107 inmates arrived at Nordhausen from Buchenwald on August 28, 1943, followed by 1,223 on September 2, 1943.
Originally called Block 17/3 Buchenwald, the SS administration ordered Dora to be politically separated from Buchenwald at the end of September 1944 and to become the centre of Konzentrationslager Mittlebau (Concentration Camp Central Construction). In effect, the camp became operational on November 1, 1944. The camp held 32,471 prisoners of many nationalities.
The SS used the Boelcke Kaserne, a former barracks in the city of Nordhausen, as a dumping ground for prisoners. Thousands of prisoners were transferred to Dora-Nordhausen, mostly from Buchenwald and they were put to work excavating underground tunnels that were to serve as the site of a huge plant for the manufacture of V-1 and V-2 missiles and other armaments. The original plan of excavation and tunnelling provided for two long tunnels that would run parallel through the mountain from north to south and be connected by forty-six smaller tunnels. By 1943, the government research team firm WIFO had completed Tunnel B and had partially finished the Tunnel A opening on the northern side of the hill.
The project provided an excellent site for underground rocket production in the two main tunnels - each 1,800 metres long and 12 and a half metres wide - and twenty-three connecting tunnels. The Germans used the main tunnels for rocket testing. Railroad tracks ran the length of the tunnel, with sufficient space remaining at the side for huge pieces of machinery. The Junkers aircraft firm used the small northern section to manufacture airplane engines.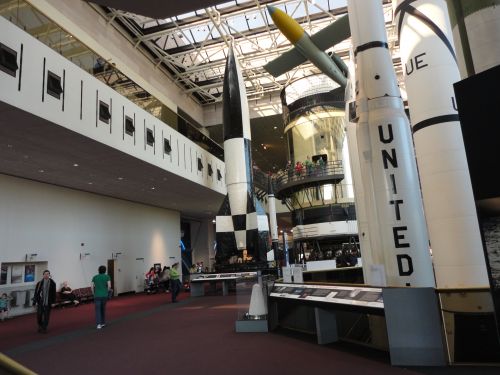 V2 Rocket and V1 Rocket - Smithsonian Air and Space Museum Washington DC (Chris Webb Private Archive)

Until the plant was put into operation, in late 1944, the ten thousand prisoners working on the site had no outside living quarters and were housed inside the tunnels, suffering unbearable conditions, deprived of daylight and fresh air for weeks at a time. They were forced to work at a murderous pace, in twelve-hour shifts, in very unsanitary conditions. A lack of safety precautions led to a high mortality rate, much higher than in other concentration camps in Germany. Only after production was began, was a camp of wooden barracks constructed in Dora-Nordhausen, to which the prisoners were transferred to during 1944. When maximum production was attained in the camp, Dora -Nordhausen had a permanent population in the main camp of over twelve thousand prisoners, with another twenty-thousand in the sub-camps.
When construction was completed and the plant went into operation, thousands of Jewish prisoners from various countries were brought to Dora -Nordhausen. They were treated with great brutality and were assigned the most physically exacting jobs, and their mortality rate was higher than that of any other groups of prisoners. The first group of prisoners sent to Dora-Nordhausen from Buchenwald included several individuals who had been active in the underground organisation in that camp. Together with other groups of prisoners of various nationalities, they formed an underground resistance movement while Dora-Nordhausen was still under construction, in order to sabotage the work and slow down production. When production commenced in 1944, the sabotage operations were intensified, seriously damaging the manufacturing process and upsetting the timetable for the delivery of weapons desperately needed by the Nazis, as the tide of war turned against them.

Although most of the prisoners in Dora-Nordhausen were men, a few women were held in the main camp and in the Gros Werther sub-camp. Only one woman guard is known to have served in Dora, and that was Lagerführerin Erna Petermann. Regardless of gender, all prisoners were treated with extreme cruelty, which caused illness, injuries and deaths. Examples of the cruelty routinely inflicted on the prisoners included, severe beatings, that could permanently disable or disfigure the victims, deliberate and life-threatening starvation, physical and mental torture. as well as summary executions for the slightest infraction. Large numbers of prisoners were put in the camp prison on charges of sabotage; many were killed during their interrogations or were subsequently executed. More than two-hundred prisoners, including several of the underground leaders were hanged in public.
On April 1, 1945, the Nazis began the evacuation of the camp and within several days most of the prisoners had been transferred, the majority of whom were moved to Bergen-Belsen Concentration Camp. However, thousands were murdered en-route. At one point near the village of Gardelegen, several thousand prisoners - mostly Jews - were crowded into a barn that was set on fire. Those trapped inside burned to death. Just prior to the evacuation the total of inmates in the main camp, and its sub-camps stood at 34,500.
The camp was liberated on April 9, 1945, by American forces, who found only a handful of survivors. Between August 7, 1947, an American Military Tribunal, which was independent of the International Military at Nuremburg, tried nineteen former staff members of Dora-Nordhausen, and fifteen were found guilty of war crimes.
The commandants of Dora-Nordhausen were SS- Sturmbannführer Otto Forschner, who was replaced by SS- Sturmbannführer Richard Baer, who was formerly the last commandant of Auschwitz. Other notable camp personnel were Karl Fritzsch, who also served at Auschwitz and Flossenburg, Karl Hoecker who was at Lublin and Auschwitz. Franz Hossler, who served at Auschwitz, Dachau and Bergen-Belsen, Dr. Karl Kahr, who also served at Dachau and Buchenwald, Alois Kurz, who also served at Lublin and Auschwitz, Max Sell, who served at Auschwitz and Ravensbruck, Dr. Eduard Wirths, who was in charge of all the physicians at Auschwitz. The Protective -Custody camp leader, SS- Obersturmführer Hans Karl Moeser, was sentenced to death by hanging. In his trial statement, he said, 'The same way, with the same pleasure, as you shoot deer, I shoot a human being. When I came to the SS and had to shoot the first three persons, my food didn't taste good for three days, but today it is a pleasure. It is a joy for me.' The other defendants received sentences that ranged from five years to life imprisonment.
Sources
Sources
www. Holocaustresearchproject.org - online resource
French L. Maclean, The Camp Men, Schiffer Publishing Ltd 1991
Photographs - Bundesarchiv, Chris Webb Private Archive
© Holocaust Historical Society 2018