Aktion Reinhardt Decodes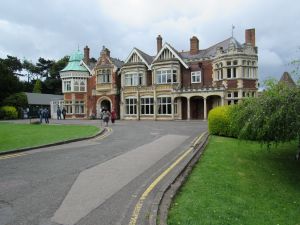 Bletchley Park -July 2016

Prior to the German invasion of Poland on September 1, 1939, the Polish Intelligence Service for several years had decoded some German Military radio messages transmitted after encryption by the Abwehr (German Military Intelligence) Enigma machine. In July 1939, because of concerns regarding German military intentions, Polish Intelligence Service handed over to the British and French Intelligence Services, a Polish manufactured replica Enigma machine.
This paved the way for British Intelligence to begin regularly decoding German secret radio traffic throughout the Second World War, at Bletchley Park, in Buckinghamshire. The decoded radio messages involving the SS, German Order Police and Security Police was declassified during 1997, and made available to the general public to view at the National Archives in Kew, England.
What will be shown are images of the copies of these messages relating to Aktion Reinhardt, and Odilo Globocnik, the SS and Police Chief for Lublin, who was the Head of Aktion Reinhardt, the mass murder campaign of Polish Jewry.
Decodes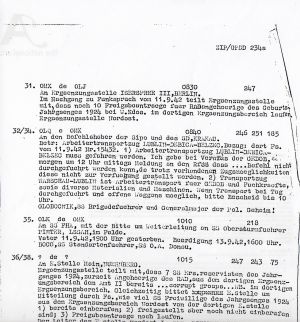 Message from Globocnik to GEDOB regarding problems with a Workers Transport from Lublin to Belzec via Debica on 11 September 1942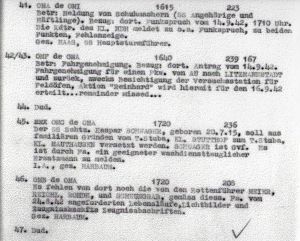 Partial Decode of a message to Auschwitz KL to obtain a vehicle for trip to the Aktion Reinhardt Field Ovens.This was the visit Rudolf Hoss, the Commandant of Auschwitz made in September 1942, to Paul Blobel in Chelmno.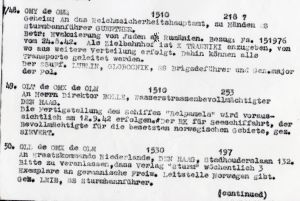 Message from Globocnik to Rolf Guenther who was on Adolf Eichmann's staff regarding deportation of Rumanian Jews to Trawniki on 24 August 1942

Message from Globocnik via the Security Police in the Hague in September 1942, to SS- Untersturmfuhrer Offermann at the SS Personnel House in Leiden regarding the purchase of Dutch excavators 118 and 119 from the August Harms company in Hamburg.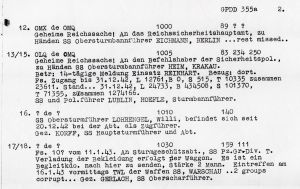 Message from Hermann Hofle, in Lublin to SS -Obersturmbannfuhrer Heim in Krakow, in January 1943, regarding the arrivals at Belzec, Sobibor, Treblinka and Lublin as part of Einsatz Reinhardt. One of the most important research finds of modern times.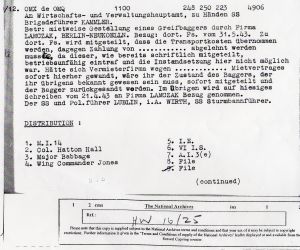 Message from Christian Wirth to SS-Brigadefuhrer Hans Kammler of the WVHA regarding the delivery of a cable excavator from the Lamczak company based in Berlin-Neukolin dated 31 May 1943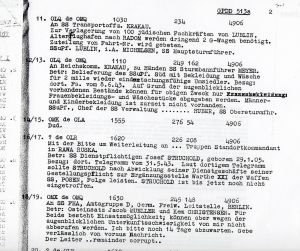 Message from Georg Michaelsen, who was part of Globcnik's Einsatz Reinhardt staff, regarding the transfer of Jewish workers from the Old Airfield Camp in Lublin to Radom. Among those transferred was Jules Schelvis, who had been deported from Westerbork to Sobibor in June 1943.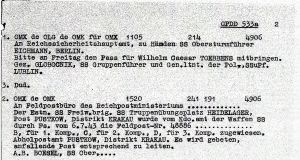 Message from Globocnik to Adolf Eichmann on 7 July 1943, requesting that Eichmann brings a pass for Walther C. Toebbens, a German labour contractor in the Warsaw Ghetto and Lublin district.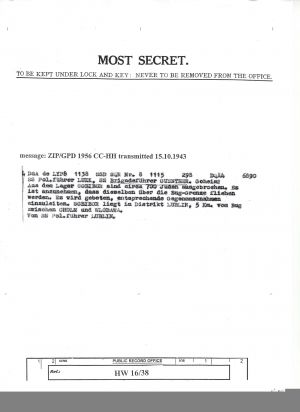 Sobibor Death Camp Revolt on 14 October 1943 - Message from SSPF Lublin to SSPF Luzk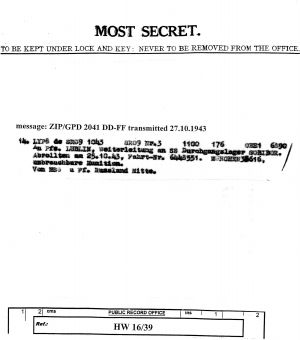 Sobibor - Message regarding unused munitions sent to Munich from Durchgangslager Sobibor on 25 October 1944
Sources
National Archives Kew, London
Thanks to Stephen Tyas
Jules Schelvis - Sobibor, Berg, Oxford, New York 2007
Tall Trees Archives, UK
© Holocaust Historical Society 2016