Abraham Gepner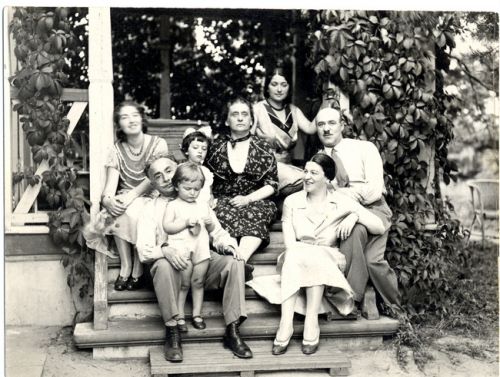 Abraham Gepner (left) and his wife Stefania and family at Radoszyce in 1931 (Yivo Institute for Jewish Research)

Abraham Gepner was born on June 28, 1872, in Warsaw. He was the owner of a metal factory and a member of the Warsaw City Council, and in addition he was a leading figure in Jewish affairs and charitable activities. He also served as the Chairman of the Union of Jewish Merchants.
During September 1939, along with Szmuel Zygielbojm, he represented the Jewish Community in the Municipal Defense Committee, and when the Germans occupied the city Gepner and Zygielbojm, were among the twelve leading personalities arrested by the Germans, and taken as hostages.
Upon his release he served as a member of the Judenrat for the Warsaw Jewish quarter and he was close to Adam Czerniakow, its Chairman. During November 1940, Gepner was appointed head of the Supply Department, which provided food and other essential items to the Jewish Quarter's residents. Stanislaw Adler, described Abraham Gepner, in his memoirs, 'In the Warsaw Ghetto' :
'This policy of assignments was practiced by Councillor Gepner, a respectable, congenial, and kind-hearted old man who was the leading figure in the Department of Supply, assisted by Councillors, by Judge Kobryner, and by Graff and Winter. Gepner, wise, handsome, with beautiful white hair and lively piercing eyes, quick-witted and skilled in oratory, was very popular in certain circles in the ghetto.'

Another illustration of the type of character Abraham Gepner was, is an entry in the diary of Adam Czerniakow, on February 17, 1942:

Gepner talking with some staffers. 'Do you know how to count?' ' Yes we do'. 'Then don't count on me'.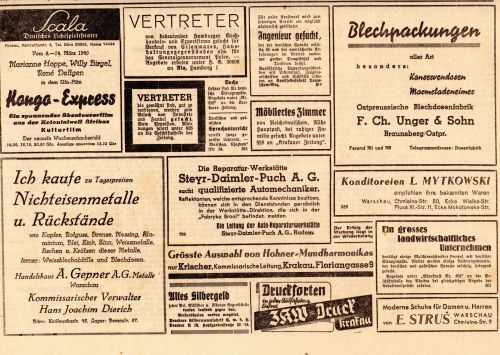 Advert for A.Gepner's firm in the Krakauer Zeitung - March 1940 (Chris Webb Private Archive)

Abraham Gepner maintained contact with the Joint American Distribution Committee, and he managed a food storehouse in the ghetto. He also supported financially the Jewish Fighting Organisation (ZOB) and the Jewish Military Union (ZZW).

On May 3, 1943, he was led out from the food storehouses at Franciszkanska Street Number 30, by the Germans and shot along with his wife on the corner of Gesia and Zamenhofa Streets.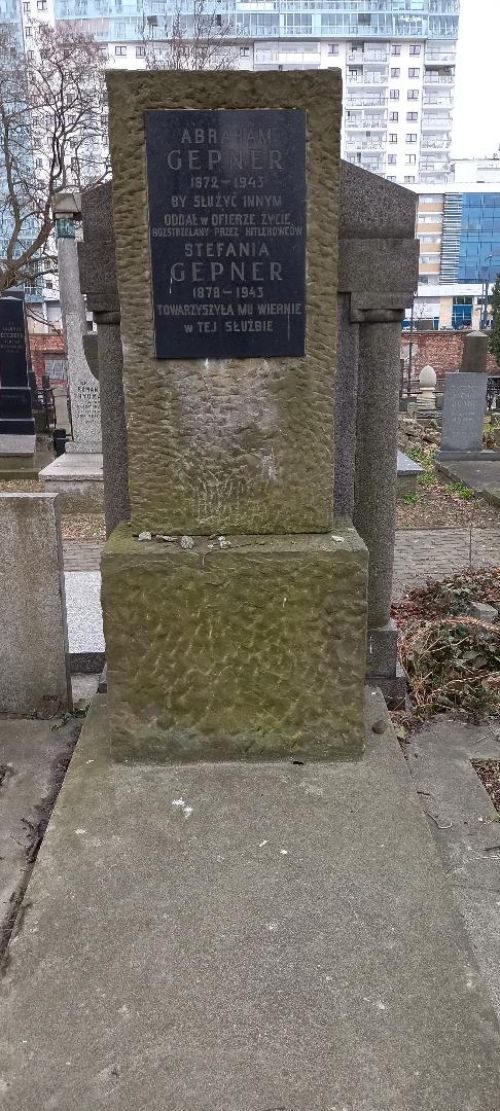 Abraham Gepner and his wife Stefania Grave - Warsaw Jewish Cemetery (Howard de Lestre)

Sources
Stanislaw Adler - In the Warsaw Ghetto, Yad Vashem, Jerusalem 1982
The Warsaw Diary of Adam Czerniakow, Elephant Paperbacks, Ivan R Dee publisher Chicago, 1999
Barbara Engelking, Jacek Leociak, The Warsaw Ghetto, Yale University Press, New Haven and London, 2009
Photographs: Yivo Institute for Jewish Research, Howard de Lestre
Newspaper Advert: Chris Webb Private Archive
© Holocaust Historical Society, March 9, 2022