Franz Reichleitner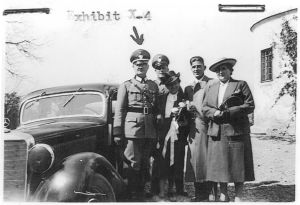 Wirth, Reicheitner, Vallaster, at Vallaster's wedding
Commandant of Sobibor Death Camp 1942-1943
Franz Karl Reichleitner was born on 2 December 1906, in Ried, Austria. He was a member of the Linz Gestapo, with the rank of Kriminalsekretar. After service in the T4 euthanasia institution at Hartheim, in Austria, he was appointed to the post of Commandant at the Sobibor death camp in Poland, replacing Franz Stangl, who had been transferred to Treblinka, to run that death camp in August 1942. His SS Number was 357,065.
He ruled the death camp more strictly than Stangl, but was seldom seen in the camp, Stanislaw Smajzner, in his book, 'Hell in Sobibor' described Reichleitner:'Not much later, Franz Stangl's substitute came. He was now Commander of the Extermination Camp of Sobibor. We never learned his name. We, the Jews of Camp 1, immediately nicknamed him 'Trottel' – which means idiot, fool. We did that because these were the words he used to call us by.'Trottel' an obese man, nearly as round as he was fat, was still very nimble and firm in the way he walked. Very red in the face, nearly as much as 'Red Cake,' he loved to show off his authority by talking very little, even with his officers. He always shouted at us and he liked to give us continuous orders which had to be obeyed to the last dot. He was really a very tough fellow. His own subordinates respected him and promptly obeyed his orders.'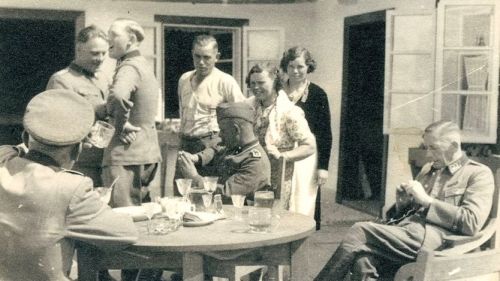 Reichleitner second from left next to Niemann, Neu Kasino in Sobibor (USHMM)

He was promoted to SS- Hauptsturmführer as indicated on the promotion list dated 20 March 1943, along with other key members of Aktion Reinhardt. Reichleitner was on leave when the revolt took place on 14 October 1943, but when he returned he was responsible for dismantling the gas chambers and other camp facilities. He was transferred to Italy and he was killed by partisans in Fiume on 3 January 1944.
Sources
J.Schelvis, Sobibor - A History of a Nazi Death Camp, Berg, Oxford, New York, 2007
Shlomo Szmajzner, Inferno in Sobibor – unpublished copy
Photograph – Schloss Hartheim Lern und Gedenkor, USHMM
© Holocaust Historical Society, October 5, 2021