Sachsenhausen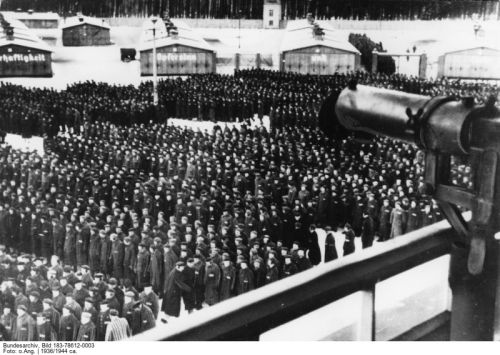 Sachsenhausen - Roll Call - View from watchtower (Bundesarchiv)

The Sachsenhausen Concentration Camp was built in the summer of 1936, by concentration camp prisoners from the Emsland camps. Located just north of Berlin, Sachsenhausen was one of the most notorious concentration camps within the Nazi empire and was liberated by Allied troops on April 22, 1945. The camp is sometimes referred to as Sachsenhausen- Oranienburg. The name Sachsen-Hausen means Saxon Houses when translated into English.

The camp was located at the edge of Berlin, which gave it a unique position among the German concentration camps and the administration centre of all concentration camps was located in Oranienburg, and Sachsenhausen became a training centre for SS Officers, who would then be transferred to oversee other camps when their training was complete. The commandants of Sachsenhausen were as follows:
Michael Lippert
Hans Hellwig
Karl Koch
Hermannn Baranowski
Hans Loritz
Walter Eisfeld
Rudolf Höss
Anton Kaindl

A number of prominent SS figures in the Holocaust also served at Sachsenhausen, included Arnold Buescher, who served at Buchenwald, Plaszow and Neuengammme, Hermann Campe, who also served at Dachau and Natzweiler, Hermann Florstedt, who served at Buchenwald and was commandant of Lublin concentration camp, Adolf Haas, who also served at Wewelsburg and was commandant of Bergen-Belsen. Friedrich Hartjenstein, who also served as commandant of Birkenau Natzweiler and Flossenburg. Josef Kramer, who also served at Dachau and Mauthausen, and was commandant of Birkenau, Natzweiler and Bergen-Belsen, Bernhard Krueger, who was in charge of the special counterfeit project. Fritz Suhren also was commandant of Ravensbruck.
Other notables connected with Auschwitz Concentration Camp such as Gerhard Arno Palitzsch, Johann Schwarzhuber, and some connected with Odilo Globocnik, the SS and Police Leader for Lublin, such as Hermann Dolp, who also served at Dachau, and was in charge of the Belzec and Lipowa Street Labour camps in the Lublin district. Also members of the Aktion Reinhardt mass murder programme Siegfried Graetschus and Johann Niemann, who both served in Belzec and Sobibor death camps.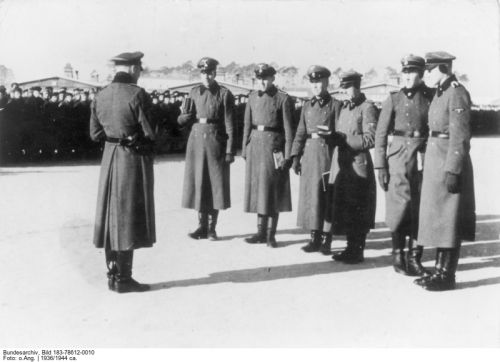 SS Officers at Sachsenhausen

Sachsenhausen Concentration Camp was built in the form of an equilateral triangle with its buildings grouped symmetrically around an axis. It was here that 'Tower A,' the SS camp administration was centrally housed. a semi-circular roll-call area was located directly in front of this and was closed in by four barracks. The SS had their barracks on a continuation of the middle axis which followed the camp street, passing 'Tower A,' and accentuated both the axis and the symmetry of the camp. The SS organized a prisoner detachment from Esterwegen Concentration Camp to construct the first few barracks in Sachsenhausen. Heinrich Himmler Reichsführer -SS said in 1937, 'that it was to be the prototype of a modern up-to-date, ideal and easily expandable concentration camp.'
During the founding phases of the camp's existence the vast majority of the prisoners incarcerated there were political opponents of the National Socialists regime. However, after 1938, the camp was used far more as an instrument of the racist National Socialist programmes directed against the Jews, Sinti-Roma, homosexuals, the so-called 'asocial,' work-shy and professional criminals, as well as other groups.
During the nation-wide 'Kristallnacht' (Night of Broken Glass) pogrom of November 1938, Heinrich Himmler ordered the summary arrest of approximately 30,000 Jews, and their incarceration in three concentration camps: Buchenwald, Dachau and Sachsenhausen. Approximately 6,000 Jews were deported to Sachsenhausen in the aftermath of the pogrom.
One of the Berlin Jews, Sigmund Weltlinger, who was deported to Sachsenhausen recalled:
'They were very friendly gentlemen who said, 'You are a Front Soldier, nothing much will happen to you. Perhaps you will be home again by this evening, but just in case take the most necessary things with you, your shaving things, washing things, whatever you need.'
So I went with them and believed it too. But when I came to Sachsenhausen - Oranienburg camp outside Berlin, I was immediately taught different. We were all shoved together with clubs and blows and had to stand in even ranks to be counted. Because I had been a soldier I didn't find that at all difficult, but the others who didn't fall in quickly were beaten immediately. The most terrible thing was when somebody grabbed hold of a big strong man and he said 'Don't grab me!' The guard said, 'What I should not grab you?' and he gave him a blow and this man was immediately overpowered by three SS people.
A block was brought and he was bound fast to it, and the camp commandant said he was sentenced to twenty-five lashes. Then a giant man came, an SS man with a huge ox-whip and started to beat him. At first the man only groaned a bit, but then he begged them to stop. The commandant said, 'What do you mean stop? We'll start all over again from the beginning.' But after three more lashes, the blood was spurting already and salt was rubbed in the wounds, or pepper. - I don't know any more. The man was dragged away, unconscious or dead. We never saw him again.'
Beginning in 1939, those arrested from countries occupied by the Nazis, those deported for forced labour and even allied Prisoners - of - War were also imprisoned in Sachsenhausen and by 1944, ninety per cent of the prisoners were of foreign origin, the majority from Poland and the Soviet Union. It is estimated that more than 200,000 people were incarcerated in Sachsenhausen Concentration Camp between 1936 and 1945. At first the prisoners were mostly political opponents of the Nazi regime, but the composition of the camp changed after the Nazis occupied most of Europe.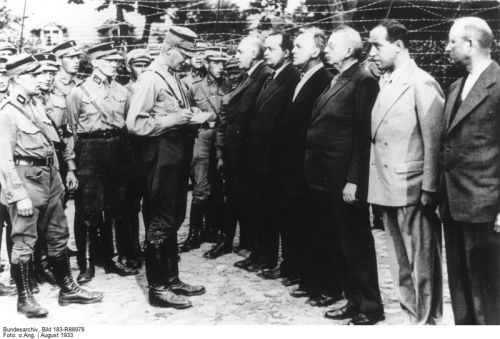 Sachsenhausen - Arrival of political prisoners 1933 (Bundesarchiv)

Among the most notable prisoners, were opponents of the Nazi state such as Dr. Martin Luther, the former Austrian Chancellor Dr. Kurt Schuschnigg, Martin Niemoller, Georg Elser, who was arrested after the abortive bomb plot to killer Adolf Hitler in a Munich beer cellar. Both Niemoller and Elser were transferred from Sachsenhausen to Dachau Concentration Camp, Elser was executed but Niemoller survived the war. Also Carl von Ossietzky, the 1935, Nobel Peace Prize winner was held in Sachsenhausen, as well as other high-ranking General Staff officers who lived outside the prisoner compounds in isolated special barracks or small houses. The first group of Soviet Prisoners-of - War arrived at Sachsenhausen at the end of August 1941. By mid-November 1941, the SS deported approximately 18, 000 Soviet Prisoners-of -War to Sachsenhausen, however, more than 13,000 of them were shot at Sachsenhausen.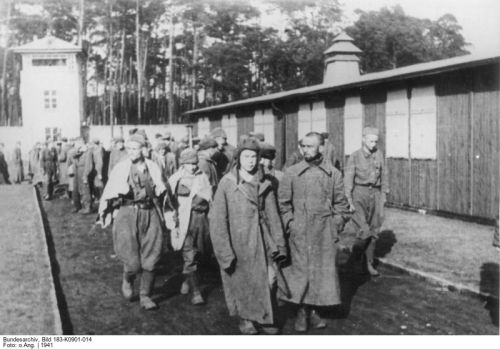 Sachsenhausen - Soviet Prisoners -of - War (Bundesarchiv)

As of mid-January 1945, there were more than 65,000 prisoners including more than 13,000 women. During the war, forced labour using concentration camp prisoners became a vital factor in German armaments production. As a result, the Sachsenhausen camp complex expanded to include more than thirty sub-camps, concentrated mainly around armaments industries in the greater Berlin area, and in Northern Germany. The main sub-camps were as follows:
Bad Saarow, Beerfelde, Belzig, Biesenthal, Brandenburg, Briesen, Dammsmuehle, Doberlitz, Falkensee, Fuerstenwalde, Genshagen, Glau-Trebben, Gloewen, Hennigsdorf, Jamlitz, Konigswusterhausen, Kustrin, Lieberose, Lubben, Niemegk, Potsdam, Prettin, Rathenau, Schwarzheide, Trebnitz, Usedom, Wewelsburg and Wittenberg.

The prisoners worked not only in the workshops ran by the SS, and small firms situated in the industrial yard next to the camp, but also in various punishment units such as the 'shoe walking unit.' Here the prisoners were forced to spend their entire day, walking along the shoe testing tracks, testing shoes for local shoe manufacturers. The tracks were built by a research institute with nine types of surfaces. Each day guards forced the inmates to wear new shoes and march about 40 kilometres over a track of cement, cinders, broken stones, gravel and sand. During 1944, the SS devised a special torture - they made prisoners walk in shoes, one or two sizes too small while carrying sacks filled with 20 kilogrammes of sand. Another infamous unit was that of the brickworks, built during 1938, by prisoners at the cost of great sacrifices. The brickworks had its own harbour on the Lehnitz - Schleuse and it was here that materials were to be produced for Albert Speer, the Reichs Minister for Armaments and War Production.

Prisoners in Sachsenhausen were also subjected to medical experiments. Dr. Werner Fischer performed experiments on Gypsies in an attempt to show they had different blood to Germans. He widened the scope of his experiments to include Jews. In another set of experiments carried out by Dr. Mugowski, he injected aconitum nitrate into the thighs of inmates to demonstrate that after such a procedure, death would occur in two hours.
During 1942, Sachsenhausen had expanded: there were more than 100 large and small sub-camps and prisoner units attached to it. This was mainly due to the massive use of forced labour for the armaments industry. Many of the sub-camps were situated near to weapons factories, such as the one near the Heinkel airplane factory in Oranienburg or in the industrial centres of Siemens and AEG in Berlin.
Sachsenhausen was also the site of the largest counterfeiting operation of the Second World War. The Nazis forced Jewish artisans to produce forged American and British currency. Over one billion pounds in fake cash was recovered. This project was led by SS- Sturmbannführer Bernhard Krueger, who selected 140 Jewish craftsmen to produce the forged notes. The Nazis used this money to pay their foreign spies, but they were unable to send the money to England, and they ran out of time and the plates and forgers were sent to Mauthausen Concentration Camp.
Several sub-camps for women were established and according to SS records more than 2,000 women were incarcerated in Sachsenhausen, guarded by female SS staff.
Prisoners were executed at Sachsenhausen in a facility known as 'Station Z' which was located on the north-western border of the camp. Building 'Station Z' commenced in January 1942, and became operational on May 29, 1942, which was witnessed by high-ranking SS Officers and Nazi officials. The name 'Station Z' resulted from the fact that the tower above the entrance gate was named 'A.' The SS made a macabre joke; if the entrance was 'A,' the first point then the exit - i.e. the crematorium was 'Z' the last point.
The L-shaped, one storey building contained four stationary ovens, a shot-in-the-neck installation, and later a small gas chamber. Approximately 600 corpses could be cremated in the ovens within a 24 hour timespan. Although the building was located outside of the camp and was separated by a high wall, the site was recognisable because of its chimney.
The gas chamber was added in late 1942, or early 1943, and it was tiled and equipped with real showers. Next to the gas chamber door there was a ventilation system for the insertion of the liquid 'Zyklon B' gassing agent, which was delivered in small bottles and kept in a locked wall-mounted cupboard in the earthen bunker near the shooting pit adjacent to the building. A bottle was crushed with a spike to release the gas. Then, together with contact from the outside air, it was introduced into the gas chamber.
In order to camouflage the gas chamber as a bathroom, it contained 6 showers. It measured only 2 and a half metres by 3 and a half metres. Only 30 persons could be crammed in together at any one time. The victims were made to undress in a small room and were then led into the gas chamber. Next to the gas chamber door there was a glass peephole. After the introduction of the gas, it took only a few minutes until the victims died. Then the ventilation fans were switched on and after a short time the corpses were removed by the Krematoriumskommando, and the bodies were cremated in the ovens.

At the end of 1942, and early 1943, captured British and American airmen were sent to Sachsenhausen where many were tortured by the Gestapo, and forced to endure long periods in the Sonderlager and subsequently summarily executed by machine -gun fire in the 'Industriehof' section of the camp. Camp commandant Anton Kaindl, and several other SS-staff members at Sachsenhausen were later tried for these acts by the major War Crimes Tribunal in Berlin.
Shortly before the camp was liberated on April 22, 1945, a number of prisoners were evacuated from the camp, on the so-called notorious 'death marches' Some 40,000 set off, and along the way thousands died of exhaustion, starvation and shootings. On the way to north-west Germany a 'Forest Camp' was established in the Belower Forest, where a museum was raised in remembrance.
The 47th Soviet Army division and the Polish 2nd Infantry Division of Ludowe Wojsko Polskie liberated Sachsenhausen on April 22, 1945. The number of Jewish deaths are estimated at 105,000, but there is much conjecture of the true number, as some estimates place the number of deaths at 35,000. Six mass graves were found at the walls of the main camp.
In post-war trials Anton Kaindl, the commandant was sentenced to life in prison, and he died in captivity during 1947. Heinrich Wessel, an adjutant in the guard battalion was brought for trial in Verden, was sentenced to seven years in prison for War Crimes. On October 16, 1960, in Duseldorf, three former camp personnel Otto Boehm, August Hoehn and Horst Hempel faced justice. Otto Boehm was sentenced to life imprisonment as he was convicted of murdering 43 prisoners, mostly Jews. August Hoehn also received a life sentence as he was convicted of murdering 6 Russian nationals. Horst Hempel was sentenced to five years in prison for complicity in murdering 510 prisoners.

Sources
www. Holocaustresearchproject.org - online resource
www. deathcamps.org - online resource
French L. Maclean, The Camp Men, Schiffer Publishing Ltd 1991
JTA - Jewish Telegraph Agency - online resource
Photographs - Bundesarchiv
© Holocaust Historical Society 2018