Lochow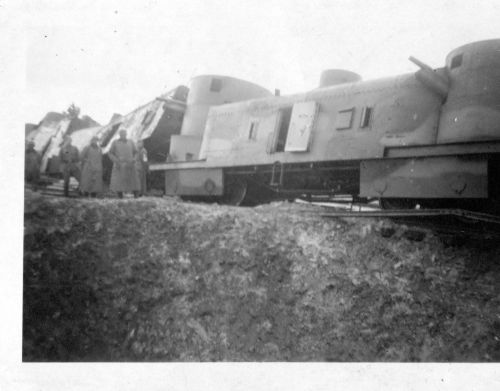 Lochow - Destroyed Polish Armoured Train - September 1939

The civil parish of Lochow, on the north-western border of the Wegrow powiat, abuts the River Bug, National Park. Lochow the civil administrative seat, lies about 34 miles north-northeast of Warsaw and 19 miles west-northwest of Wegrow. Judel Jakowlewicz Perlis, a Jewish merchant from Grodno, contributed to the establishment of a Jewish settlement there. In 1876, in the forest of Baczki, an estate east of Lochow, he built a factory for manufacturing steel farm implements. On clearings north and northwest of his factory, Perlis created several villages, such as Jasiorowka (1875), Ostrowek (1882), and Lopianka (1883).He encouraged Jews to build homes there. Perlis passed away in 1893. Important too was the 1882, purchase of the Lochow estate by Zdzislaw Zamoyski, he welcomed Jews to the Budziska village, on his estate's western edge, to develop trade and handicrafts.
In 1939, Lochow's Jewish population had grown to 800. 90 of Lochow's Jews worked in commerce, mostly as small traders, 260 worked in handicrafts, 11 were industrial workers and 38 were professionals. They belonged to the Jewish council of Stoczek, which was located approximately 7 miles north of Lochow.
On September 10, 1939, the German army occupied Lochow, in advance of the German occupation the Perlis and Loewenstein families joined many Jews from Lochow fleeing to territories occupied after September 17, 1939, by the Soviet Union, as part of the Ribbentrop -Molotov pact. On September 22, 1939, Adolf Hitler came to Lochow to see the destroyed Polish armoured train, 'General Sosnkowski,' along with Wilhelm Keitel, Martin Bormann and other leading Nazi officials.
From October 1, 1939, the command of a German artillery unit was billeted at Perlis's factory. The Germans also seized the Zamoyski estate. They established a German Gendarmerie post there of between 10 and 15 policemen under the command of Karl Tetzen. The Regional military authorities ordered the registration of Jewish property in the county and closed all Jewish enterprises on October 14, 1939. With these orders, the Germans formally expropriated Perlis's and Loewenstein's factories and placed them under German administration, when they re-opened in late- November 1939.
On November 28, 1939, the county's new Kreishauptmann, Landrat Friedrich Schultz, ordered the Jews of Lochow to nominate a Judenrat. The Judenrat's chairman, Mojzesz Goldsztejn, a blacksmith by profession, was a pre-war supervisor at Perlis's factory. A resident of Baczki, he was an activist from Poale Zion-Left. The Judenrat's assistant chairman, P. Plater, was a Zionist. The Judenrat established its headquarters in Lopianka. It placed medical services under the direction of Zofia Kirchen, who was the physician of the Perlis factory. Much later, it organised a small Jewish police force of some 6 strong.
Local German policies towards the Jews of Lochow, at first un-even, became more uniform and violent by the autumn of 1940, soldiers quartered at the Perlis factory in Baczki, treated the factory's Jews well, as did a military unit that replaced them. Jews employed there and at the Loewenstein factory, both of which operated with expanded labour forces of 500 and 300 respectively, received such high wages that the District Warsaw administrators sent several delegations to the Baczki factory to threaten its German administrator and Jewish technical director with prison terms if workers earnings were not reduced.
Jews were not ordered to wear white armbands with a blue Star of David, mandated in Kreis Sokolow, in December 1939, unlike most in the General Gouvernement, until the autumn of 1940. Outside of Baczki, Gendarmes harassed Jews, forcing those in Lopianka, Budziska, and Jasiorowka to engage in menial labour, seizing animals and carts, and stripping stores of merchandise. In Jasiorowka, they repeatedly searched the homes of Jews with pre-war firearms permits. From September 1940, the Gendarmes unleashed several violent attacks against Jews, murdering three and raping adolescent girls in Lopianka. These attacks, almost always associated with Gendarme Friedrich Hartmann, may have led the Judenrat to counter the violence by paying bribes to the Gendarmes.
Migration also challenged the Jews of Lochow; From November 1939, and on through 1940, Jewish refugees flooded into Lochow, seeking refuge there while arranging to cross into the territories controlled by the Soviet Union. In the winter of 1939 -1940, the Germans deported to Lochow Jews from Kalisz and Wyszkow. By August 1, 1940, Jews comprised of 1200 of Lochow's 14,015 residents. By May 1941, 1,400 Jews, including 756 refugees lived there. Local Jews blamed the refugees for a typhus outbreak during 1940. The Judenrat created an old-age home for refugees from Kalisz. It ordered the Jews of Lochow to house the remaining refugees. The Judenrat extended free medical care and provided 240 free meals daily in April 1941, to the refugees.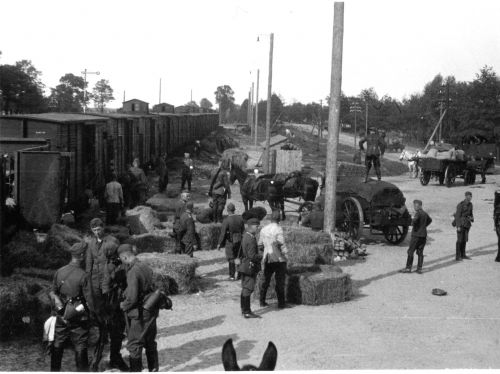 Lochow Station - German Troops - (Tall Trees Archive)

Ernst Gramss, was appointed on June 10, 1940, to the post of Kreishauptmann for Sokolow and he took steps in 1941, to establish a ghetto for the Jews of Lochow. During February 1941, he forbade Jews from leaving their villages, without special permission. This order transformed many of Lochow's villages into open ghettos. In a report dated February 1, 1941, Gramss stated that Lochow was one of six places in his county in which Jews had been concentrated and he promised to close the ghettos in these places as soon as the weather permitted. Gramss never fully implemented this plan, although the Jews were more tightly concentrated.
In the autumn of 1941, the Germans turned half of the Loewenstein factory into Stalag 333 for Soviet Prisoners of War, and they also expropriated holiday homes in the Urle Forest, between Lochow and Jadow. These homes were moved to Lochow for German military and civilian administrators. At the same time the Germans deported to Baczki the Jews of Ostrowek, Budziska, and Jasiorowka. The Kreishauptmann's office also ordered 359 Jews from Sadowne to Baczki, by December 15, 1941. Only the Jews of Lopianka were not transferred there. The ghettos in Baczki and Lopianka were never closed, and Jews moved freely around these two villages.
The creation of open ghettos in Baczki and Lopianka pushed a large number of Jews into poverty. In May 1942, unemployment had risen to 30 per cent. By August 1942, more than 700 Jews qualified for reduced-cost or free meals, every second day. On September 10, 1942, the Judenrat Chairman reported his organisation's financial bankruptcy. He warned that Lochow's 1,640 Jews stood on the brink of tragedy.
By this time, the Jews of Lochow realised that they would not be spared deportation to the Treblinka death camp. Living near the railroad leading to Malkinia -Gorna, they had heard trains travelling to Treblinka, which was located 21 miles northeast from Lochow, throughout late July and August 1942. They had also aided several Jews who had jumped from these transports. News about the Nazis murdering Jews at the Treblinka death camp had arrived also from Kosow Lacki Jewish sources and from local Poles. Jewish survivors from Jadow told of a deportation in July 1942, where the Germans had shot hundreds of the town's Jewish population.
The liquidation of Lochow's ghettos began on September 25, 1942. A large number of Baczki's and Lopianka Jews refused to assemble for the deportation, choosing instead to hide. In Lopianka, drunken Gendarmes and SS-men, assisted by Polish 'Blue' Police and Ukrainian -SS auxiliaries, shot and killed Jews every few steps on the way to Lochow's train station. After selecting between 18 and 20 people for a post-liquidation ghetto, the Germans ordered the Jews into wagons. The train which departed Baczki at 3.05 p.m. stopped 25 minutes later in Sadowne to load Jews that had been assembled there, from the ghetto in Stoczek. Once the train departed there at 4.48 p.m. several Jews opened one of the train wagons, about 10 minutes later. Scores of escaping Jews were mowed down by armed guards, as they jumped from the train. At 5.37 p.m. the train carrying the Jews of Lochow and Stoczek arrived at the Treblinka death camp.
A post-liquidation ghetto was created in Budziska in a building near the Gendarmerie. When 50 survivors reported there, the Gendarmes executed 30 people who had not been issued residency permits. The post-liquidation ghetto's 18 -20 residents, tailors and shoemakers by profession, from two extended families, made boots and clothing, including leather coats for the Gendarmes. On December 11, 1942, the Gendarmes surrounded the building that housed the workers. About 6 Jews managed to escape. The Gendarmes took the remaining 14 Jews to the forest, ordered them to undress and then shot them. The Germans also continued to search for Jews in hiding. The day after the liquidation of the Baczki and Lopianka ghettos, Gendarmes shot more than 50 Jews found at the Perlis factory. In Budziska that day, Gendarme Friedrich Hartmann shot another 30 Jews. The Germans also found and murdered Zofia Kirchen, the Judenrat physician.
The Germans murdered the largest number of Jewish survivors in the forest areas north of Lochow, in neighbouring Sadowne, there between January and February 1943, they killed approximately 300 Jews and escaped Soviet Prisoners of War and during the same time the Germans also attempted to discover hidden Jews, by taking punitive measures against Poles, thought to be assisting them. These 'aktions' included an execution on January 13, 1943, of 2 Jewish women, outside of Sadowne, along with the baker Leon Lubkiewicz, his wife and son, for having given the women bread. From March 16 to 31, 1943, the SS tortured then executed 16 farmers from around Zarzetka, which was in Sadowne parish, arrested approximately 150 others, suspected of aiding Jews and escaped Soviet Prisoners of War. They stripped villagers of their livestock and agricultural stores and then set fire to a part of Zarzetka. The number of Jews who perished in this reprisal is unknown.
Less than 25 of Budziska's Jews survived the German occupation. Most of those that did, did so with the help of local Poles. The Lesinski family in Ostrowek gave refuge to Rozalia Kalecka, a supervisor at Perlis's factory., her sister Tzivia, brother-in-law Menashe, and nephew Boleslaw. The Grzesiak family sheltered nine-year old Natan Najman, from Lopianka, who had jumped from a train headed to the Treblinka death camp. The Zdunski family in Jozefow, near Warsaw, hid 10 members of the Brzostek family, from Jasiorowka, including several survivors of Budziska's post-liquidation ghetto. The Roguszewski family in Lochow hid Ida and Chana Dzierbowicz and also Najman and his brother for a time. They also helped the Najman brothers find escaped Soviet Prisoners of War who agreed to arrange hiding places in the forest for them.
The Jewish community of Lochow, which numbered about 70, with returnees from the Soviet Union, was not reconstituted. After nationalist partisans attacked the Brzostek family, on March 20, 1945, fatally injuring two, the survivors in Lochow, joined others already in Lodz. The majority later settled in Israel, Canada, and England.

Sources
Encyclopaedia of Camps and Ghettos 1933- 1945, USHMM, Indianna University Press Bloomington and Indianapolis 2012
S. Wucyna, Fall Weiss, Agencja Wyawnicza, Warsaw, 1997

Photographs -Tall Trees Archives
© Holocaust Historical Society 2019