Alois Brunner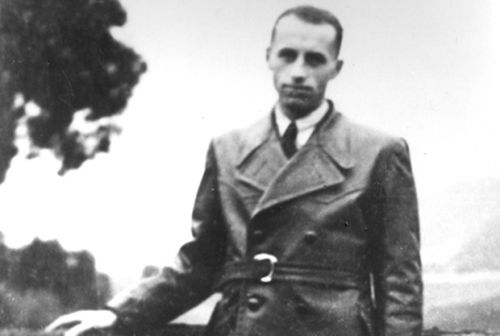 Alois Brunner

Alois Brunner was born on April 8, 1912, in Rohrbrunn, Austria. He joined the Nazi Party in 1931, and the SS in 1938. He worked as Adolf Eichmann's secretary in Vienna and was in charge of the registration and deportation of Austrian Jews to the East. In a report by Polizeireserveleutnant Fischmann, it was stated that Brunner was present to observe the deportation of a transport of Jews from the Aspangbahnhof, Vienna, to the Sobibor death camp in Poland on June 14, 1942.
Alois Brunner was highly regarded by Adolf Eichmann and he was transferred to Berlin from late 1942, until January 1943, deporting Jews from the Reich capital and the following month saw Brunner in Salonika, Greece. From the Baron Hirsch camp in Salonika, Jews were sent to Auschwitz-Birkenau Concentration Camp and the Treblinka death camp, in the spring of 1943. One of those who again witnessed Brunner was Gertrude Schneider who was deported from Vienna to Riga on February 6, 1942. The transport commander was Alois Brunner, one of whose charges during the long journey was the Viennese financier, Siegmund Bosel. During the second night of the train journey, Brunner chained Bosel, still in his pyjamas, to the floor of the first wagon and berated him for having been a 'profiteer.' The old man repeatedly asked for mercy; he was very ill, and it was bitterly cold. Finally, Brunner wearied of the game and shot him. Afterwards Brunner walked into the second wagon and asked whether anyone had heard anything. After being assured that no one had, Gertrude Schneider later recalled, 'he seemed satisfied and left.' The Viennese transport reached Riga on February 10. It was met at the station by Dr. Rudolf Lange, the Commander of the Security Police in Latvia, who had attended the Wannsee Conference, in Berlin, the previous month
From July 1943, until August 1944, Alois Brunner served in France, where he commanded the Drancy Internment Camp, near Paris. It was in July 1943, tried to establish a sort of Jewish Ordnungsdienst and a number of Jews were allowed out of Drancy to collect friends and relatives by various appeals to sentiment or blackmail threats. However, les missionaires were not a success and they were withdrawn after a few weeks.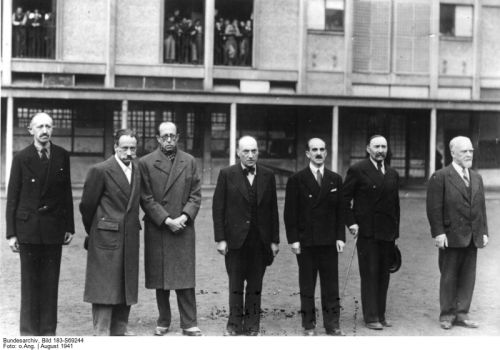 Drancy - Jewish Prisoners (Bundesarchiv)


After serving in France, Alois Brunner was next responsible for the deportation of Slovakian Jews from the Sered Labour Camp. When the Second World War ended, Brunner changed his name to Alois Schmaldienst and lived largely untroubled in the German city of Essen. In 1954, Alois Brunner was sentenced to death in absentia, by a French Court and he fled to Damascus, in Syria, where he was granted asylum under the assumed name of Dr. Georg Fischer.
Subsequently Alois Brunner lost an eye and several fingers as a result of a letter bomb sent to him by the Israeli Secret Service, Mossad. Brunner died in Damascus during 2010, according to various news services reports.

Sources
www.deathcamps,org online resource
M.Gilbert, The Holocaust – The Jewish Tragedy, published by Collins London 1986

G. Reitlinger, The Final Solution, published by Sphere Books Ltd, London 1971
Photograph – Private Archive, and Bundesarchiv
© Holocaust Historical Society 2018