Philipp Bouhler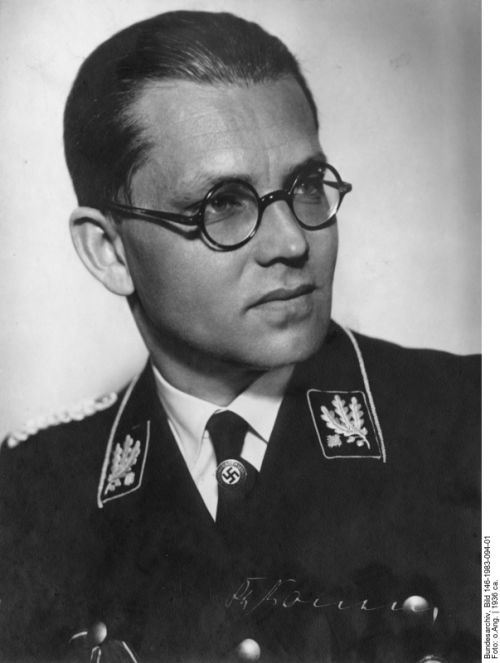 Philipp Bouhler (Bundesarchiv)

Philipp Bouhler was born in Munich on 11 September 1899, the son of a retired colonel. Bouhler rose to become Chief of the Fuhrer's Chancellery and head of the infamous euthanasia programme, code named T-4 after its address of 4-Tiergartenstrasse in Berlin, which murdered physically handicapped and mentally-ill people in the Reich.
After four years in the Royal Bavarian Cadet Corps and service in the First World War, during which he was seriously wounded, Philip Bouhler was an apprentice with various publishers. In 1922, he abandoned the University of Munich philosophy school to help edit the Volkische Beobachter. From 1925, to 1934, he was the Business Manager of the Nazi Party. In 1933, he became a Reichsleiter of the Nazi Party and was elected member of the Reichstag for the district of Westphalia.
During 1934, he was appointed Police President of Munich and became Chief of Hitler's Chancery, responsible for the preparation of decrees that were never officially published. At the same time Bouhler was also Chief of the Party's Censorship Committee for the Protection of National Socialist Literature and of the Study Group for German History Books and Educational Material.
In 1942, he published Napoleon, the Comet-Path of a Genius, which was avidly read by Hitler at bedtime. Bouhler was soft-faced, bespectacled, mildly-spoken, who looked more like an American college-boy, than a Gruppenfuhrer of the SS. Bouhler was one of the shadowiest figures in the National Socialist elite. His office was responsible for the euthanasia institutes which used gas chambers filled with carbon monoxide gas to get rid of the mentally -ill and physically-disabled. This method was later used in the Aktion Reinhardt death camps in Poland. On 16 August 1941, Bouhler was ordered by Adolf Hitler to halt the euthanasia programme as a result of public protests.
At the end of the war, Bouhler increasingly sought Hermann Goering's protection and along with his wife went to Goering's headquarters. They were both arrested by American forces at Schloss Fischhorn in Bruck, near Zell-am-See on 10 May 1945. Both committed suicide: Helene jumped from a window at Schloss Fischhorn. On 19 May Philipp Bouhler took a cyanide capsule whilst in a US internment camp at Zell-am-See.
Sources

R.S. Wistrich, Who's Who in Nazi Germany, published by Routledge, London and New York 1995
G. Reitlinger, The Final Solution, published by Sphere Books Ltd, London 1971
Ernst Klee, Euthanasia im Dritten Reich, published by Fischer Taschenbuch, 2010

Photograph – Bundesarchiv
© Holocaust Historical Society 2018