Barry- Kurt Franz's Dog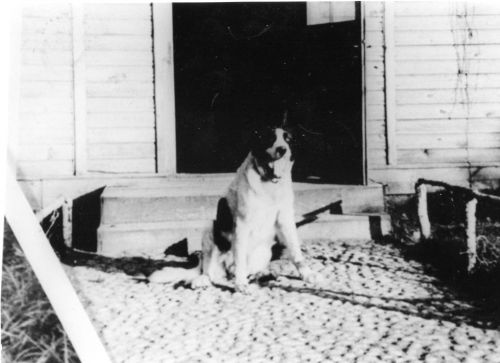 Barry pictured outside the German Quarters in the Treblinka Death Camp

Kurt Franz was interviewed in Dusseldorf on December 30, 1959, where he recalled:
In Treblinka I had a dog, whom I called Barry. This dog was once brought by somebody into the camp and he wanted to be with me. He was a mixture between Bernhardiner and New Foundler. He had a Jewish inmate as caretaker, who told me this. There were no other dogs in the camp.

But Barry first became known in the Sobibor death camp. Erich Bauer in a post-war interview claimed:
Bolender also went with the dog. It actually belonged to the Police. Beckmann brought it from Treblinka. Later on Stangl took it with him back to Treblinka.

Stanislaw Szmajner mentioned Bolender and the dog Barry in his book Hell in Sobibor - The Tragedy of a Teenager Jew:

In the afternoon, when I was already starting on the task, a Scharfuhrer came to our workshop. His name was Bolender and he was in very good company. It was a huge St. Bernhard dog which answered to the name of Barry. At first I thought it was tame. It did not bark at me, but stood quietly by its master. I was absolutely mistaken. I later learned that it was a very fierce watchdog.
Another of the SS Nco's on the SS -Sonderkommando's staff garrison was Ferdinand Gromer, who was known by the Jews as 'Red Cake.' He ordered Stanislaw Szmajner to make him a ring. Gustav Wagner had warned Stanislaw Szmajner not to make any rings without his approval. Stanislaw Szmajner recalled what happened next:
When the three days had elapsed, 'Red Cake' came in the morning to get his ring. He asked me if I had made it and I said I had not. Then he said, All right.
He left very calmly followed by his famous dog, Barry. Once in the yard he started to blow his whistle and to shout like a madman - 'Come out all of you , you tramps, you lazy Jewish curs.'
Immediately a torrent of men, including ourselves had to run out of their places of work. When he saw us all in the yard, the Boche blew his whistle again to make us align. Then he started the punishment, making all of us crouch, raise, run, stop and crawl. He did all of this at the blow of a whistle, in endless succession, abruptly alternating the painful movements of the sweating Jews, already exhausted by the violence of the inhuman exercise.
However, the sadism of the drunken Nazi had not reached its climax yet. At a given moment, he blew his whistle to make us all lie down and drawing his gun started to shoot at us. With the bullets whizzing past my head, my only thought was - This time I'm done for. After he had fired his last shot he walked in our direction and stopped beside me. He kicked me violently and shouted, 'Run!'

I got up quickly and started to run as fast as I could. I had only gone a few meters when I got a violent blow from behind, and then I felt terrible pain. Barry had attacked and bitten me. I still have the scar that his sharp teeth left where they tore off my flesh. It seemed as if Red Cake wanted to put an end to me with his dog that had been trained to do that.

All of a sudden a saving order was heard, given at the right moment. It was as if it had fallen from heaven. Wagner had come, no one knew where and ordered my torturer to call his dog off me.