Dieter WISLICENY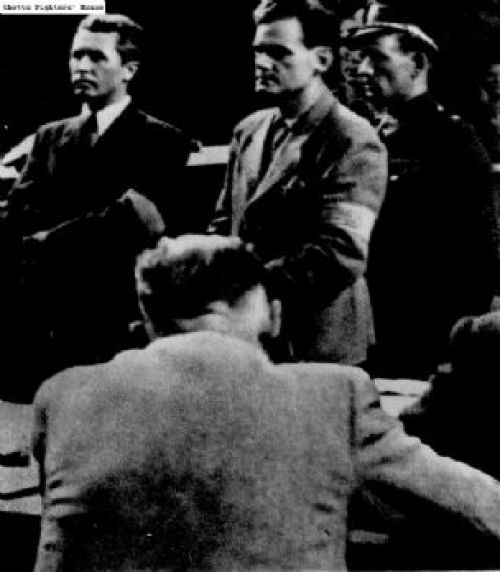 Alexander Mach and Dieter Wisliceny during their trial in Bratislava (Ghetto Fighters House)

Dieter Wisliceny was born on January 13, 1911, in Regularken, the son of a landowner. Wisliceny studied theology, but failed at this and found employment briefly as a clerk in a construction firm. Wisliceny was unemployed when he joined the Nazi Party in 1931. In 1934, he joined the SS and in June of the same year entered the Sicherheitsdienst (SD).
At one time Dieter Wisliceny was Adolf Eichmann's superior in the SS, and the roles were reversed during the Second World War, and Wisliceny became one of his 'Jewish experts' serving as his representative in the Reich Central Office of Jewish Emigration, in a number of foreign locations. From September 1940, he was attached to the German delegation in Bratislava, as an advisor on the 'Jewish Question' to the Slovak government. Wisliceny, who belonged to the more educated stratum of the SS, was more concerned with money than forging a career, and he acquired in Slovakia a reputation for accepting bribes. Less fanatical than Eichmann and other members of the 'Eichmann Kommando' he accepted 50, 000 dollars from the Jewish Relief Committee in Bratislava, for delaying deportations from Slovakia in 1942.
Dieter Wisliceny was sent to Greece, along with Anton Brunner on February 6, 1943, and they established themselves in two Jewish villas in the Hodos Velissariou part of Salonika. Wisliceny as head of the Sonderkommando fur Judenangelegenheiten in Salonika, introduced the yellow badge and prepared deportations from the Baron Hirsch ghetto to the death camps in the east, notably Auschwitz and Treblinka.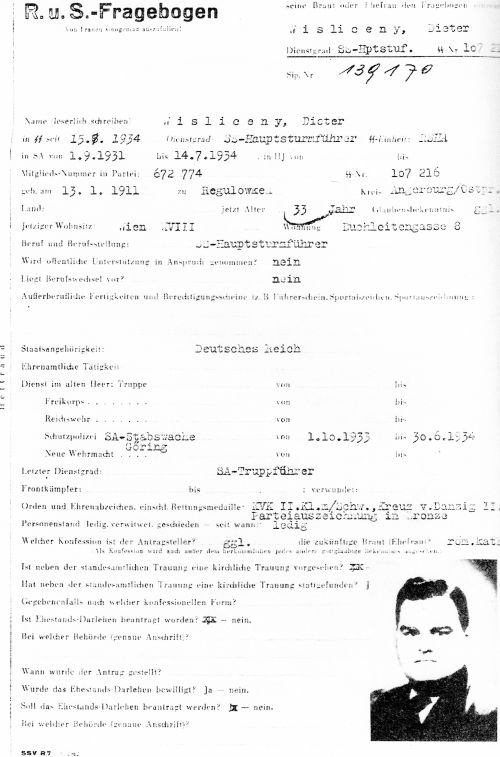 Dieter Wisliceny Fragebogen from his personal file

In March 1944, he was posted to Budapest, in Hungary to join the 'Eichmann Kommando' where Eichmann was looking to deport the Jews of Hungary. He once again became involved in bribe taking from the Jewish representatives, but the sums paid to him, did not prevent the trains rolling to Auschwitz in the summer of 1944.
At the International Military Tribunal (IMT) in Nuremburg after the Second World War had ended, Wisliceny was a witness for the prosecution and gave graphic details of the 'Final Solution.' It was claimed by Wisliceny,that Adolf Eichmann allegedly said, 'that he would leap into his grave laughing because the feeling that he had five million people on his conscience was to him a source of extraordinary satisfaction.'
Wisliceny was eventually extradited to Czechoslovakia, standing trial in Bratislava, where he was found guilty of complicity in mass murder, and executed on February 27, 1948.
Sources
R.S. Wistrich, Who's Who in Nazi Germany, published by Routledge, London and New York 1995
G. Reitlinger, The Final Solution, published by Sphere Books Ltd, London 1971
Photograph – Ghetto Fighters House, Israel
Document - Wiener Library, London
© Holocaust Historical Society 2018