Brody
In the 19th century, Brody was a major centre of both commercial and cultural activity in the Jewish world, so much that it was known as the 'Amsterdam of the East.' It was home to many rabbis and scholars, as well as Maskilim of Galicia. The Haskalah, or Jewish Enlightenment was an intellectual movement in Europe, that lasted from the 1770's to the 1880's and the the Maskilim were the followers of the Haskalah. The city's Jewish community suffered extensive damage during World War One, but gradually restored itself during the 1920's. Political organisations and affiliations active in Brody included various Zionist parties, as well as Agudath Israel, Polish Jewish integrationists and Communists.In the late 1930's, approximately 8,300 Jews lived in Brody, which represented more than half the city's population, though despite these numbers, they suffered from anti-Semitic discrimination, during this decade.
Brody was occupied by the Soviet Red Army on September 20, 1939. The city's factories and shops were nationalised and the Jewish Community Council was disbanded. In early January 1940, a number of large-scale merchants and Jewish community leaders were exiled into the Russian interior, along with some of the many refugees who had sought refuge in Brody from western Poland during October -November 1939.
After the German invasion of the Soviet Union in June 1941, the Jews, mostly Soviet activists, managed to escape into the Russian interior. The Germans occupied Brody on June 29, 1941, immediately afterwards on July 1-2, the Germans arrested approximately forty Jewish public figures whom they accused of Soviet activity. On July 12, 1941, Gestapo forces under the command of Hermann Mueller murdered between 200 and 250 Jews belonging to the intelligentsia, who had been called in two days earlier for a meeting with the authorities representatives. A few days later, Einsatzkommando 5, under the command of Erwin Schulz, murdered Jewish Prisoners of War, along with some 300 Jews who had been arrested in the city and its environs. On July 15, 1941, severe restrictions were imposed on the Jews freedom of movement : they were ordered to wear 'Star of David' armbands, and many were rounded up to perform forced labour tasks.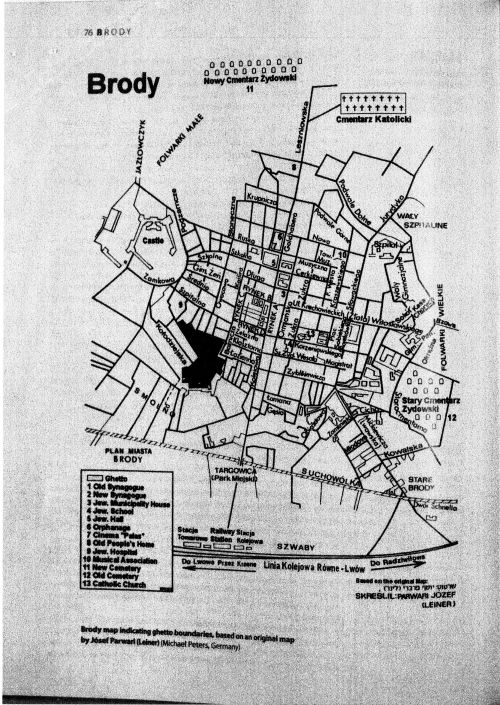 Brody - Map of the Ghetto

On July 20, 1941, a Jewish Council (Judenrat) was established in Brody, headed by xxxxxx , and a Jewish Order Service was also set up headed by