Ernst Lerch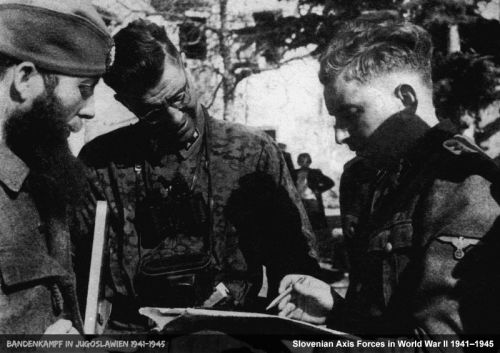 Ernst Lerch middle fighting partisans (private archive)

Ernst Lerch was born in Klagenfurt Austria on 19 November 1914. According to his initial British interrogation report, he was educated in Klagenfurt and briefly studied at the Hochschule fur Welthandel in Vienna. From 1931 to 1934 he worked as a waiter in various hotels in Switzerland, France and Hungary to learn the hotel trade, from 1934 until Austria was annexed by the Reich, he was employed in the café of his father in Klagenfurt. It was during this time at the café, he met Odilo Globocnik, Ernst Kaltenbrunner and Kurt Kutschera and other leading Austrians who served the Nazis after the Anschluss in March 1938. Kurt Kutschera changed his surname to Claasen, and along with Lerch also worked with Globocnik in Lublin.
Lerch became a member of the illegal Nazi Party and the SD from 1936, the annexation brought him promotion to the rank of an SD-Hauptsturmführer and he became an SD –Leiter, a post he resigned from in July 1938. He was called up to serve in the German Army and served in the Polish campaign as a signals corporal, in 1940 he was released from the army and employed with the Fremdenverkehrsverband Karnten in connection with the resettlement of German hotel proprietors from South Tyrol. According to Lerch in his interrogation with the British in September 1941 he joined the Waffen-SS and was appointed Rasse und Seidlungsführer based in Krakow in the General Gouvernment.However, Lerch joined Globocnik the SSPF Lublin on 20 December 1941 and became chief of Globocnik's personal office and Stabsfuhrer der Allgemienen –SS.
Lerch played a leading role in Aktion Reinhardt responsible for Jewish affairs and he was responsible for the radio link between the Aktion Reinhardt Headquarters in Lublin and Berlin. During his interrogation by the British forces after his capture Lerch conveniently lied about his time in Lublin during the incriminating years between 1942 and 1943 stating he was in Klagenfurt and Cracow. At the former trial of the former Gestapo Chief in Lublin, Hermann Worthoff's it was stated that Lerch had overseen the liquidation of thousands of Jews from the Majdan Tatarski ghetto in Lublin at the nearby Krepiec Forest.
When Aktion Reinhardt was finished, Lerch was transferred to Italy in September 1943, together with some of Globocnik's staff. In Trieste he continued to serve as chief of Globocnik's personal staff in Adriatic Coastal Area, he was also involved in anti-partisan operations, and for a few weeks Lerch was provisional police commander in Fiume. After the German surrender in Italy, he made his way back to Carinthia, his homeland, where he was captured along with Odilo Gobocnik, Hermann Höfle, Georg Michaelsen and Karl Helletsberger, near the Wiessensee Lake. He was interrogated by the British in Wolfsberg from where he escaped and went into hiding between 1947 and 1950. Lerch was eventually brought to trial on 15 May 1972 but the trial was suspended and adjourned sine die. Ernst Lerch died in 1997 in Klagenfurt, having never been brought to justice.
Sources:
Hitler's Man in the East – Odilo Globocnik by Joseph Poprzecny, published by McFarland & Company, Inc Publishers 2004
Justice Not Vengeance by Simon Wiesenthal, published by Weidenfeld & Nicolson London 1989
Photograph - Private Archive

© Holocaust Historical Society 2019