Arthur Greiser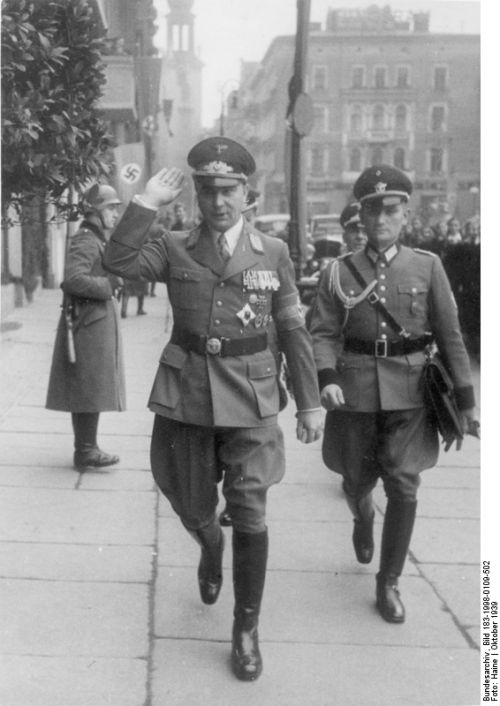 Arthur Greiser saluting (Bundesarchiv)
Arthur Greiser was born in Schroda , Posen on January 22, 1897, the son of a civil servant. During the First World War he served as a naval officer, and after the war ended he served in the Freikorps and later as a businessman, with little success. Arthur Greiser co-founded the Stalhem, an organisation for veterans in Danzig, during 1924.

Greiser joined the Nazi Party and the SA in 1929, and the following year he entered the SS, as one of Heinrich Himmler (RFSS) earliest adherents. From November 1930, Greiser was deputy district leader of the Nazi Party in Danzig and leader of the Party faction in the district. On June 20, 1933, Greiser became Deputy President of the Danzig Senate and on November 28, 1934, he succeeded Hermann Rauschning as President, a post he retained until September 1, 1939. Greiser was then made head of the Civil Administration in Posen and on October 21, 1939, he was appointed to the post of Gauleiter and Reich Governor of the Warthegau - the Polish western regions annexed to the German Reich. This also included the district of Lodz, which the Germans named Litzmannstadt.

From July 1940, Greiser was a member of the Reichstag for the Warthegau electoral district and in 1943, he was promoted to the rank of SS- Oberstgruppenfuhrer. As Gauleiter for the Warthegau and Lodz, he was in charge of the mass deportation and extermination of Jews and Poles to secure room for Germans from the Baltic States, Volhynia, the Balkans and the Reich itself. As a result of his measures the German population in his region swelled from 325,000 in 1939, to almost 950,000 by the end of 1943.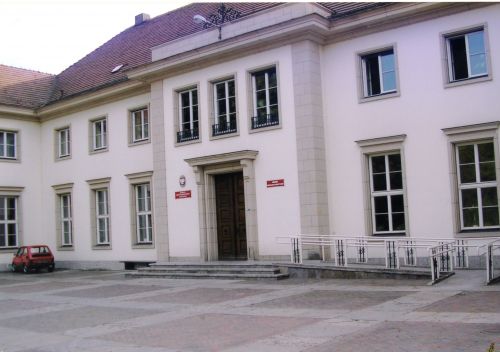 Arthur Greiser's Villa - 2005 (Chris Webb Private Archive)
Arthur Greiser had a harsh record of cruelty towards the Polish poulation, advocating in a letter to Heinrich Himmler (RFSS) dated May 1, 1942, that tubercular Poles be sent for 'special treatment' to Chelmno death camp. Greiser also supervised the anti-Jewish measures which led to the burning of synagogues, the sending of thousands of Jews and Poles to forced labour in the Reich and the GeneralGouvernment as well as to the death camps.
Towards the end of the Second World War Greiser fled to the Bavarian Alps, where he eventually surrendered to the American forces. He was extradited to Poland and tried by a Polish Court. He was sentenced to death and hanged on June 20, 1946, in front of his former palace in Poznan, after being paraded around the city in a cage.
Sources
R.S. Wistrich, Who's Who in Nazi Germany, published by Routledge, London and New York 1995
Photographs – Bundesarchiv, Chris Webb Private Archive
© Holocaust Historical Society- June 30, 2020