Ernst Krombach - From the Ruhr to Izbica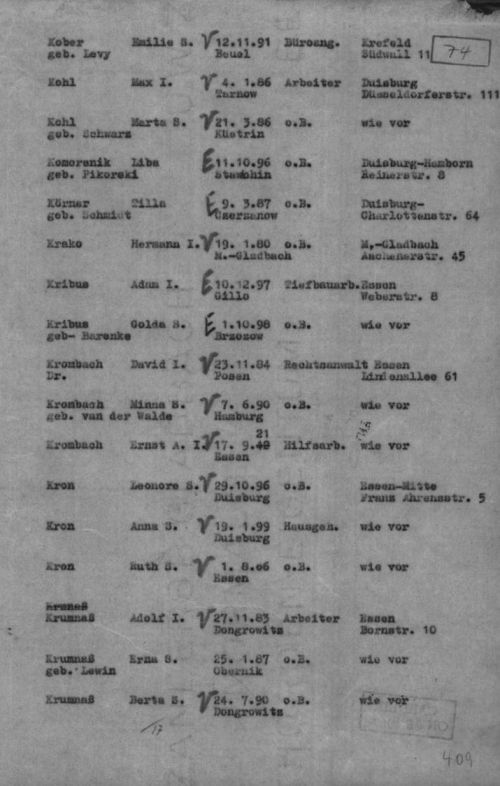 Ernst Krombach - Transport List Dusseldorf - Izbica -22 April 1942

From this heavily industrial region of the Reich and its environs, Ernst Krombach and circa 1,000 other Jews, including his family members, were congregated in late April 1942, and moved to Dusseldorf to await a train that would ship them to the Lublin District. All the planning for this transport was carried out by Adolf Eichmann's IVB4 section of the RSHA in Berlin and the Ruhr based Gestapo offices.
Krombach's father David, also shown on the above transport list, had been a lawyer, and an active member of his local Jewish community. Like so many male German Jews, the senior Krombach had risked his life for pre-Nazi Germany in the First World War .

The night before departing Dusseldorf railway station, all these destined for deportation were forced to sleep inside an out of the way abattoir. The next day on April 22, 1942, this large group of civilians was compelled to walk to Dusseldorf station, a distance of some two kilometers. After waiting for several hours , they boarded from Platform 1, a train that was designated as DA 52.
This train had been used to transport Russian workers to the Reich, under the designation RU 7520, thus indicating that certain trains from the Reich were specifically used to shuttle some people to the East and others West, with Jews being loaded on the return East legs , at this time destined for the Lublin District , and eventually to the death camps of Aktion Reinhardt.

Shortly before the trains departure from Dusseldorf, bound for the Lublin District, via Hagen, on the afternoon of April 22, 1942, Ernst Krombach was able to send a postcard carrying a brief message to his fiancee, Marianne Strauss. He managed to post another such card during his journey eastwards across the Reich and Poland.and it is as a result of these correspondence that it has been able to learn of his journey and destination of this journey into the unknown.
One of the postcards revealed that Ernst Krombach had learned that transport DA52 was destined for Izbica, within the Lublin District which was located some 41 miles from Lublin. After his arrival in Izbica, after about three months, he was able to post a third and final card from there. In his last card he told his fiancee that this former village was, in 1942, a rural ghetto and was being used as a holding settlement from where Jews were being taken by train elsewhere. He did not mention the names of Belzec or Sobibor death camps, because he like the other German Jews at Izbica, did not know their final destination.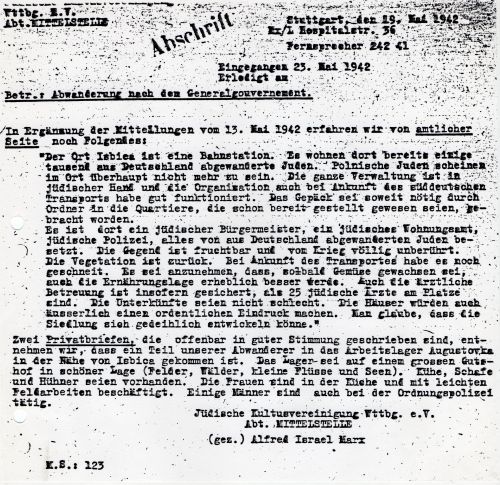 Report on Izbica by Alfred Marx -May 1942 (Holocaust Historical Society)

Ernst Krombach last postcard spoke of 14,000 Jews having been held at one time or another in Izbica.But during his stay which lasted until at least August 1942, there were between two and three thousand held under extremely congested and brutal conditions. Whilst it is probable that Ernst and his family were deported from Izbica to the Belzec death camp, where they perished, but that is by no means certain, as some transports from Izbica also went to the Sobibor death camp.

Sources
Joseph Poprzeczny, Hitler's Man in the East Odilo Globocnik,, McFarland & Company Inc, Jefferson, 2004
Transport List :www. Statiskik des Holocaust.de
Document: Holocaust Historical Society Uk.
© Holocaust Historical Society March 29, 2021