Trawniki-Manner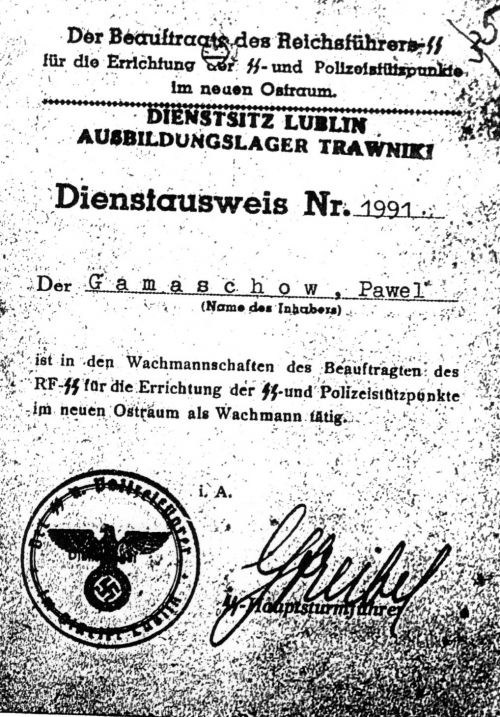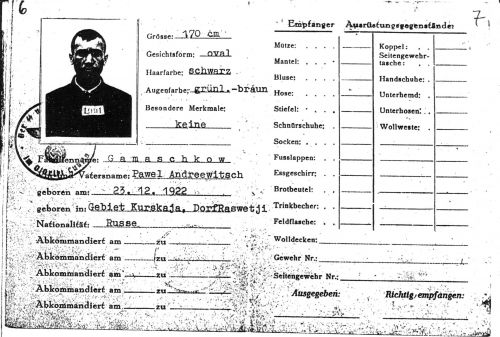 Pawel Gamaschow - Trawniki ID Card

The SS established during July 1941, in the village of Trawniki, approximately 25 kilometres south-east of Lublin, under the jurisdiction of SSPF Odilo Globocnik, an SS Training School in the buildings of a pre-war sugar refinery, close to good rail links. The Trawniki Jewish Labour Camp and the SS Training Camp history has already been covered on the website, and this article will cover the Trawniki-manner themselves.
One of the Trawniki-manner Dimitriy Korotkikh recalled the training he received at the SS Training Camp:
The SS training camp in which I was trained was situated at the edge of the village of Trawniki, on the territory of a factory, in a few large, brick, single-storey buildings. The German Kommandantur was also housed there in a two-storey building.
The training period in the SS school for Wachmanner was indefinite, it depended on the needs of the guards. These were taken from the camp, regardless of their state of preparedness, but the training period was roughly for about six months. During our stay in the SS guards school, we underwent drilling and shooting training. We studied weapons - the rifle, also the rules of sentry duty. We learned German songs and took special training in sentry and convoy duty.
In the spring of 1942, I do not recall the month, after completing the SS school for Wachmanner, together with a group of selected guards, comprising some 30 men, I was sent to the city of Lublin (Poland) to guard a concentration camp situated at the edge of the city of Lublin. As I learned later, individuals of Jewish nationality had been held there, but by the time of our arrival they had been taken away, where to, I do not know and there were no prisoners left in the camp.
We stayed there for about four days without occupation, then we were taken back to the camp in Trawniki where I stayed until the fall of 1942, and underwent training. After this, I was sent to the village of Treblinka, where there was a camp especially destined for the mass extermination of Jews, and which was called a death camp.
Yegor Lobynstev who arrived in the SS Training Camp Trawniki in the autumn of 1941, recalled:
We were trained in the rules for guarding and escorting prisoners who were held in German concentration camps. During this training the Germans instructed us - or more correctly, beat into our heads on a daily basis - that we were not to give the slightest quarter while guarding and escorting prisoners. We were not to have the slightest contact with prisoners; we were not to give them any water or food and for the slightest 'infractions' we were to shoot them without any warning. The Germans subsequently demanded strict compliance with those requirements from all of the Wachmanner.

Jakob Klimenko described one of the more brutal practices carried out at Trawniki:

When we completed training the Germans ordered each of us to shoot a Jew. They apparently did this in order to be better able to rely on our loyalty to them. A German officer led our platoon into the woods not far from the township of Trawniki. We were sent in groups of ten to stand next to groups of ten Jews. The Jews stood in a single line. We were then each ordered to shoot a Jew. We were required to carry this out. I shot a person on that occasion.
Aleksander Moskalenko also recalled these types of executions at Trawniki:

There was a ghetto-camp next to the Trawniki school. The Wachmanner would bring Jews from other camps to this camp under the pretext that they were needed to perform work. Later they were shot in the course of 'practical training.' The practical training was performed in the following way - a company of Wachmanner would go from the school to a trench. A group of five to fourteen Jews would be brought to them. The latter would be lined up facing the trench with their backs turned to us. After this, the company commander would summon Wachmanner out of formation, the number of whom would equal the number of Jews. After this, he would distribute bullets, one to each Wachmann - and would force them to shoot the Jews in front of the rest of the company. During the period of my training, about fifty people were executed by Wachmanner from our company, and I shot one Jew during the 'practical training.'

Nikolay Shalayev provided a statement about fellow guard Ivan Marchenko on 28 August 1951, in the city of Voronezh:
Ivan Marchenko, from December 1941, until February 1942, was in the SS Training Camp in the town of Trawniki, Poland and trained here in the school for guards. From February of that year as member of the second company 1st platoon of wachman, after completion of training, he left for the city of Lublin, Poland where he escorted the arrested and detained into a ghetto of Jewish persons into some camp.
In May 1942, with a detachment, left Lublin for the Treblinka death camp. In this camp Marchenko remained until July 1943, after which time together with me left for the city of Trieste, Italy, afterwards from there in December 1943, was transferred to the city of Fiume. I was in the city of Trieste, yet I saw Marchenko almost every day, as he stood guard and as a wachmann accompanied German officers during their trips on the highway to Trieste and other cities.
Testimony of Wladyslaw Surowiec on 21 February 1946:
It was in the spring of 1943, soon after the disbandment of the death camp in Belzec and soon after the burning of the corpses - the barracks had already been torn down and the young pine forest planted - that I met once the Ukrainian by the name of Borys - his surname was I believe -Koticzyn.
He made use of my bicycle and to return the favour he invited me for a schnapps. Over schnapps he told me that Wirth, the former commandant of the death camp in Belzec, who at that time had already been transferred to Lublin, and already before his transfer had been promoted to Major, had received a 'million medal.' I was afraid to him what this 'million medal' meant - in my opinion, that must be a medal for the murder of one million people. Borys did not tell me exactly when Wirth had been promoted to Major or had received this medal.
Interrogation Report on 3 May 1961, City of Vinnitsa
Skakodub, Nikolay
Marchenko, Ivan and Shalayev, Nikolai served as head guards in the Treblinka death camp, they were motorists of the 'dushehubka.' Their primary responsibility was herding the condemned into the gas chambers of the 'dushehubka.' and turning on the motor -the gas of which asphyxiated the people. Both of them were distinguished in their brutality.

Fedor Fedorenko, recalled the prisoner revolt at Treblinka on August 2, 1943, at his Denaturalization Hearing in Fort Lauderdale, Florida in 1978:
I was standing guard on the first gate, flames started and shots fired all around. I couldn't understand who was shooting and where the shots were coming from. The Commandant ran out and one or two Germans and we Wachmanner, we dropped to the ground and lay there, and then we saw some people running away and they ordered us to shoot, but this was far away from us.
Richard Glazar provided a description of Boris Rogoza, the Head of the Ukrainian guards at Treblinka:
Staff Sergeant Stadie is standing near the entrance to the camp with some kind of weapon slung over his shoulder. More people from the sorting site are being herded over to the platform. SS officers whipping and kicking some of them until they fall to the ground. The guards, ambitious apprentices that they are, follow suit. Even their commander is present, Chief of guards Rogoza, a boyish red-cheeked boor.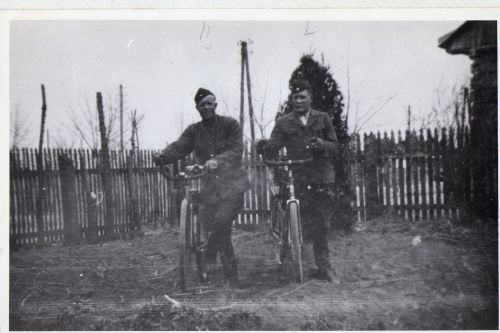 Belzec - Two Trawniki-manner

Alphabetical List of Trawniki- Manner at Belzec Death Camp
ALEKSEJEV, Peter
ANANEV, Yakov
BARTELS, Iwan
BAUMAN, Maks
BENDER, Ivan
BERG
BIALAKOW, Wasyl
BROCEW, Piotr
BUDZIAK
BULJIL, Waslyl
BYCHKOV, Alexsander
DALKE, Heinrich
DYNER
FLEISCH
GADSICKI, Wladimir
GORBACHEV, Mikhail
GRENIUK, Michail
GRUZIN, Wasyl
GUZULAK, Piotr

HAWRYLUCH
HAZDICKI
HUBER, Michal
HULEYT, Vasyl
HUTYT, Wasyl
HUZIJA, Iwan
JADZIOL, Stefan
JAKOVEVITS, Diner
JAWOROW, Fedor
JESCHKE, Adolf
KAISER, Alexsander
KNIGA, Grigorij
KLOTZ, Mitrofan
KOBAWCZENKO
KOLISYN, Borys
KOLONKO, Adolf
KOSTENKO, Kyril
KOTYCHYN, Borys
KOZENDE, Mikolaj
KOZLOWSKI, Iwan
KUCZERCHA, Iwan
KULYCHIN, Wasyl
KUNZ, Samuel
LAZARENKO
LINKIN, Grigorij
LITUS, Petro
LUSSE
MALAGON, Nikolai
MAMCZUR
MATWIJENKO, Nikolai
MAWRODIJ, Anastazij
MOTYGULAN, Sagudula
NESMEJAN, Grigorij
NIKOFOROW, Iwan
OLEJNIK, Taras
OLJIEWSKI
ORLOVSKIJ, Vasily
OSTER, Peter
PAMIN, Franz
PAVLI, Nikolai
PECZENYT, Grygory
PIECZONY, Gregorz
PIETKA, Alexej
PITKONYT
PITNOWY, Genrikh
POCHOLENKO, Michal
PODIENKO, Wasyl
PODIONAK, Wasyl
POHL
POKOLENKO, Michal
POPRAVKA, Sergey
PROCHENKO, Wasyl
PROCHORENKO, Kiryl
PROCHIN, Dymytri
PRUS, Alexander
PRYMAK
PUNDIK,Dimitrij
ROGOSA, Boris
ROHLE, Heinrich
ROSENHOLZ
ROSENKO, Arnold
SABAT, Viktor
SAMUEL
SCHARF
SCHMIDT, Heinrich
SCHMITZ
SCHNEIDER, Friedrich
SCHULTZ, Alexander
SCHUTZ, Heinrich
SIEVERT, Reinhard
SIMIONOW, Alexander
STEINER
STEPANOW, Peter
STETCZENKO
STURM
SYSTOLA, Jakub
SZACHOLIJ, Wasyl
SZPAK, Dimitri
SZPAK, Profiry
SZWAB, Alexander
TICHONOWSKI, Iwan
TIMOSHENKO
TRAUTTWEIN, Karol
TRUBENKO, Wasyl
TWERDOCHLIB, Alexander
VEITH
WANOCHA
WEDRYHAN, Fiodor
WEDRYHAN, Petro
WERDENIK, Ivan
WLASIUK, Edward
WOLOSZYN, Iwan
WONK, Michal
WOWK, Viktor
WYSOTA, Jakub
ZAGREBAJEW
ZAJCZEW, Iwan
ZAPLAWNYJ, Iwan
ZIMBERT
ZUJEW
ZUK, Ignatz
Alphabetical List of Trawniki- Manner at Sobibor Death Camp
Aleksy Kaiser,Hodl and Gomerski in Italy

ANTONOV, Wasil
BAIDIN, Ilya
BARANDTIMOV, Sabit
BATARONOV, Aglam
BELYI, Michail
BIALOWAS, Jan
BIELAKOW, B.
BIELINSKI
BILIK, Ivan
BODESSA
BOGUNOV, Dimitrij
BRANDECKI, Felix
BUSINNIJ, Prokofi
CHABIBULIN, Achmed
CHROMENKO, Chariton
DALKE, Heinrich
DANILCHENKO, Ignat
DEMJANJUK, Ivan
DEPTYAREV, Vasili
DIMIDA, Konstantinl
DOMERATZKI, Jakob
DUDA, Wlodzimierz
DUDKO, Michal
DZIRKAL, Karl
ENGELHARD, Jakow
FEDORENKO, Ivan
FLUNT, Miron
FROLOV, Gennardi
GEUSLER
GONCHARENKO, Anatoli
GONCHARENKO, Nikolai
GONCHAROW, Efim
GORDIENKO, Nikolai
GORLOV, Fedor
HETMANIEC, Wasil
HOTOROWICZ, Jan
INDYUKOW, Ivan
ISAENKO, Aleksai
IVCHENKO, Ivan
IWASHENKO, Piotr
JARYNIUK, Ivan
JECHAI, Iosof
JEFIMOV, Wasili
JERMOLDAYEV, Ivan
JUDIN, Nikolai
KABRIOV, Nurgali
KAISER, Aleksy
KAKORACH, Ivan
KARAKASZ, Iwan
KARAS, Pavel
KARIMOV, Fetich
KARPENKO, Alexander
KISILEW, Viktor
KLATT, Ivan
KOSCHEKUK, Piotr
KOSCHEMYKIN, Jakov
KOSZEWADZKI, Volodia
KOSTENKOW, Emil
KOZACZUK, Piotr
KOZLOWSKI, Iwan
KRAWCHENKO, Filip
KRUPA
KRUPINEWICH, Mikolaii
KUDIN, Pavel
KURAKOV, Leonid
KUSEVANOV, Michail
LIBODENKO
LORENZ, Friderich
LYACHOV, Gregorli
LYACHOV, Ivan
MALINOWSKI
MAKARENKO
MARTYNOW, Nikolai
MARTYNOW, Terentij
MASHENKO, Andrei
MATWIEJENKO, M.
MAUER
MEDVEDEV, Nikolai
MIKOLAYENKO, Semion
MORDWINICHEV, Pavel
NABIYEW, Bari
NAGORNYI, Andrej
NIJKO, Wasily
NIKOFOROW, Ivan
OLEXENKO, Anatoli
PANASHUK, Ivan
PANKOV, Anatoli
PANKOW, Vassily
PAWLI, Nikolai
PAULENKO
PICHEROV, Dimitrii
PODIENKO, W.
RAZGONAYEV, Mikhail
RESCHETNIKOW, Michail
REZVERCHY, Igor
RIMKUS, Tadas
RUDENKO, Piotr
RYSCHKOV, Vasily
SABIROV, Chares
SBESNIKOV, Petro
SCHEVCHENKO, Dimitrii
SCHIRPEV, Kamil
SCHREIBER, Klaus
SCHULTZ, Emanuel
SELEZNEV, Mikolaj
SENJONOW
SERGIENKO, Grigorij
SERIK, Dimitrij
SHICHAVIN, Pavel
SHUKOW, Ivan
SIRENKO, Maxim
SIROTENKO, Vladmir
SOKOREV, Semion
SOKUR, Kuzma
SZILPNY, Heinrich
SZULC, Emanuel
TICHONOWSKI, Fedor
TISCHENKO, Ivan
USTINNOKOV, Ivan
VAKUTENKO, Ivan
VASKIN, Kuzma
VOLYNIETS, Efim
WASEM, Yakob
WEDENKO, Fiodor
YASKO, Aleksander
ZABERTNEV, Konstantin
ZAJCEW, J.
ZISCHER, Emil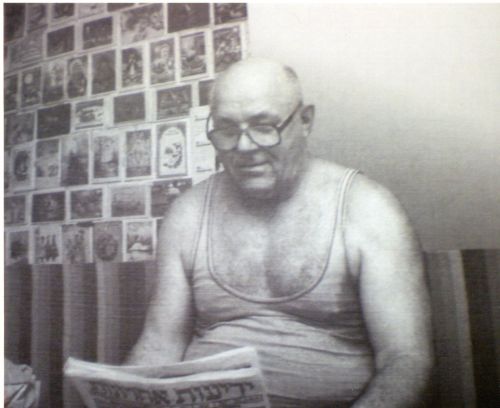 Ivan Demjanjuk in Israel awaiting Trial

Alphabetical List of Trawniki- Manner at Treblinka Death Camp
Chief of the Trawniki-Manner

ROGOZA, Boris

Trawniki-Manner Guards
ANDREYEV
BONDARENKO, Mikolaj
BONDAVE, Peter
BORODIN, Dimitry
CHERNIAVSKY, Volodymir
DIMITRENKO, Piotr
DUSHENKO, Fyodor
FEDORENKO, Fedor
GONCHAROV, Pyotr
GONZURAL, Mikolay
GRIGORCHUK, Pavel
JAWOROW, Fedor
JELENSCHUK, Wasil
KOROTKIKH, Dimitry
KOSTENKO
KULAK, Nikolay
KURINNOY, Ivan
KUZMINSKY, Ananiy
LEBEDENKO, Nikolay
LELEKO,Pavel
LEVCHISHIN, Filip
MAKODA, Nikolay
MALAGON, Nikolay
MANCHUK
MARCHENKO, Ivan
MARTOSZENKO, Moisei
MELNIK, Theodozy
MILUTIN, Alexej
NIDOSRELOW, Mikolaj
ONOPRIJENKO, Daniel
OSYCZANSKI, Mikolaj
PARASCHENKO, Alexander
PARFINYUK, Yevdokim
PAYEVSCHHIK, Nikolay
PILMAN
POLAKOW, Leon
PRITS, Samuel
RITTICH, Alexander
ROBERTUS
RUBEZ, Grigory
RUDENKO, Wasil
RYABEKA, Fyodor
RYABTSEV, Prokofiy
SCHEFFLER, Mikolay
SCHISCHAJEW, Wasil
SCHMIDKIN, Iwan
SCHULTZ, Alexander
SCHULTZ, Emanuel
SENIK, Nikolay
SENYKOW, Mikolay
SHALAYEV, Nikolay
SHEVCHENKO, Ivan
SHVIDKOY, Ivan
SKAKODUB, Nikolay
SKYDAN, Grigoriy
STREBEL, Oswald
TEREKHOV, Ivan
TKACHUK, Ivan
TSCHERNIEWSKY, Wladimir
VASILENKO, Sergey
VOLOSHENKO, Alexander
WASILENKO, Iwan
WOLOSZYN, Wasil
WORONKOW, Vasily
YEGER, Alexander
YELENCHUK, Vasily
ZAVIDENKO, Trofim
WARSAW GHETTO UPRISING -APRIL -MAY 1943
Soldiers from the Trawniki-SS Training Camp were utilised in the crushing of the Warsaw Ghetto Uprising during April -May 1943, and details of of those Trawniki-Manner killed in action or wounded during this 'Grossaktion' were listed in the infamous Stroop Report compiled by Jurgen Stroop the SS and Police Leader in the Warsaw District.


SS - Obersturmfuhrer Johann Schwarzenbecher who commanded the Trawniki - Manner in the Warsaw Ghetto Revolt (SS Personal File)

Stroop Report
Foreign Ethnic Units
1 Battalion Trawniki-manner 2 officers/ 335 men
The following fell in the battle to destroy the Jews and bandits in the former Jewish quarter of Warsaw
On 22 April 1943
Guard Willi Stark, born 4 April 1920, Trawniki Training Camp
Guard Borys Odartschenko, born 11 January 1923, Trawniki Training Camp
The following were wounded:
On 19 April 1943
Guard Paul Nestarenko, born 17 August 1919, Trawniki Training Camp
Guard Andrej Dawidenko, born 31 January 1923, Trawniki Training Camp

Guard Michael Minenko, born 11 February 1921, Trawniki Training Camp

Guard Nikolai Huzulak, born 16 March 1923, Trawniki Training Camp
Guard Borys Roschdestwenskyj, born 10 April 1914, Trawniki Training Camp

Guard Andrej Prottschenko, born 1 October 1922, Trawniki Training Camp
On 20 April 1943
SS Technical Sergeant Sepp Mayowski, born 23 December 1914, Trawniki Training Camp

On 21 April 1943
Guard Iwan Knyhynyzkyj, born 21 July 1923, Trawniki Training Camp

On 23 April 1943
Guard Emil Schmidt, born 2 February 1923, Trawniki Training Camp

On 24 April 1943
Guard Wladimir Usik, born 16 June 1917, Trawniki Training Camp
On 27 April 1943
Unit Guard Jurko Kosatschok, born 3 May 1921, Trawniki Training Camp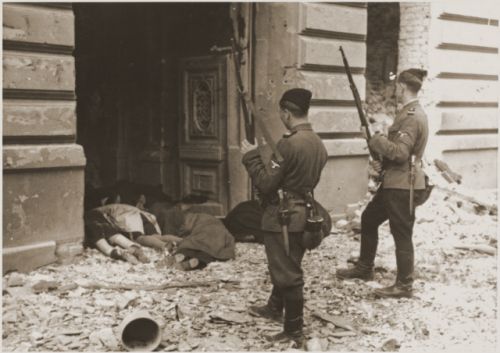 Two Trawniki-manner during the Warsaw Ghetto with murdered Jews

Sources:

Webb, Chris & Chocolaty, Michal, The Treblinka Death Camp (Ibidem-Verlag 2014)
Webb, Chris, The Belzec Death Camp (Ibidem-Verlag 2016)
Webb, Chris, The Sobibor Death Camp (Ibidem-Verlag 2017)
Glazar, Richard Glazar, Trap with a Green Fence, (Northwestern University Press, Evanston, Illinois 1995)
Black, Peter, Foot Soldiers of the Final Solution: The Trawniki Training Camp and Operation Reinhard, (Holocaust & Genocide Studies, Oxford University Press, Spring 2011)
The Stroop Report , Andrzej Wirth, (Secker and Warburg, London 1979)
Interrogation Reports and Statements - Holocaust Historical Society
Yad Vashem Archive, Israel
Ghetto Fighters House, Israel
Photographs: Regional Museum Tomaszow Lubelski, Ghetto Fighters House, USHMM

Mike Tregenza Archive Lublin, Poland
© Holocaust Historical Society 2018
Soldiers from the Trawniki -SS Training Camp were utilised in the crushing of the Warsaw Ghetto during April and May 1943, and details of those Trawniki-Manner killed or wounded during this 'Grossaktion' were listed in the infamous Stroop Report compiled by Jurgen Stroop the SS and Police Leader in the Warsaw District.