Friedrich Jeckeln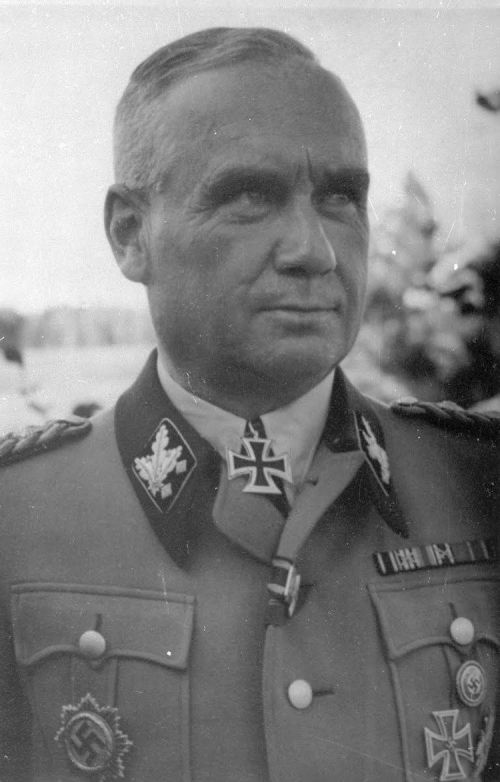 Friedrich Jeckeln

Friedrich Jeckeln was born on February 2, 1895, in Hamburg. He trained as an engineer, and he joined the German Army during 1914, and served first with the artillery and then trained as a pilot. Jeckeln left the military as a Leutnant, having won the Iron Cross 2nd Class and the Wound Badge in Black.
Jeckeln joined the Nazi Party on October 1, 1929, and he was a member of the Reichstag from July 1932, to the end of the war. He joined the SS on March 15, 1930, with the rank of SS-Sturmbannfuhrer. From mid-March 1930, to mid-March 1931, he led the 1/12 SS-Standarte and was promoted to the rank of SS-Standartenfuhrer on June 22, 1931. He was entrusted with forming and leading the 12 and 17 SS-Standarten in 1931, and served as commander and administrative officer until September 20, 1931, when he was promoted to the rank of SS-Oberfuhrer.
SS-Oberfuhrer Jeckeln then commanded Abschnitt IV from September 1931, to late January 1933, and was promoted to the rank of SS-Gruppenfuhrer on February 4, 1933. From late January 1933, to mid-July that year he led SS Gruppe 'Sud' and commanded the Political Police in Braunschweig from February 1932, to July 1933. He then led Oberabschnitt 'Nordwest' from mid-November 1933, to early July 1940, and was promoted to SS-Obergruppenfuhrer on September 13, 1936. From July 1940, to late June 1941, he was head of Oberabschnitt 'West' and the HSSPF 'West' though a substitute held the posts when he left to prepare for duty in Russia in early May 1941.
He saw active duty in the campaign in the West as commander of 1. SS Totenkopf -Infantrie - Regiment 2 of the Totenkopf Division. During May 1941, he prepared for HSSPF duties in Russia and was appointed HSSPF 'Russland -Sud.' In November 1941, his HSSPF command and that of Hans Adolf Prutzmann were switched and Jeckeln became HSSPF 'Nord,' officially holding the latter post until the end of the war - the command lost 'Weissruthenian' in April 1943.
In Russia he commanded several Kampfgruppen composed of troops assigned to his HSSPF command and was promoted to General der Polizei on April 1, 1941, and also became a General der Waffen-SS on July 1,1944. He was the titular HSSPF 'Belgian-Nordfrankreich ' from September 1944, to mid-January 1945, with Christoph Diehm performing his duties. During January and February 1945, he was the commander of all replacement units within the area of the HSSPF'Sudost' and commanded the V.SS-Freiwilligen Gebrigs-Korps from mid-February to the end of the war.

He was awarded the Knight's Cross on September 5, 1944, the Oakleaves on March 8, 1945, the German Cross in Gold on December 19,1943, the Iron Cross 1st Class on May 12, 1942- and a clasp to his WW1 2nd Class, both classes of the War Service Cross with Swords, the Wound Badge in Silver on June 27, 1942, the Gold Party Badge on January 30, 1939, and the Police Long Service Award 3rd Class.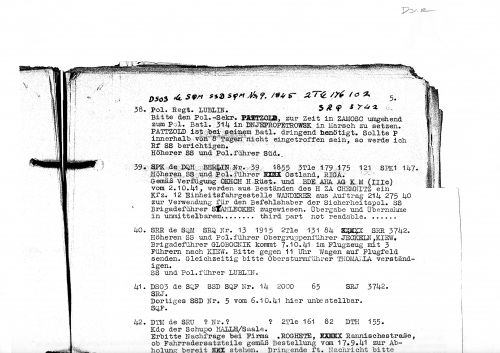 Police Decoded Message - Globocnik and Jeckeln (National Archives Kew)

An extremist, he was cruel and short-tempered with those under him. Often making rash decisions without considering the eventual results, he got along well with Theodor Eicke, as they had similar temperament and outlook. His HSSPF command was responsible for numerous massacres in Russia and Latvia. During February and March 1942, Jeckeln initiated anti-partisan activity called 'Action Marsh Fever' and anti-partisan activities became his prime objective. With little military knowledge and poor command abilities, his corps command functioned on the skill of his staff and divisional commanders.
Jeckeln was captured by the Russians, he was heavily interrogated and placed on trial in Riga, Latvia, on February 3, 1946. He was hanged to death later on the same day.
Sources
Mark C Yerger, Allgemeine-SS, Schiffer Miltary History, Atglen PA, 1997
Charles Hamilton, Leaders and Personalities of the Third Reich, R.James Bender Publishing, San Jose 1984
National Archives Kew
Photo: Unknown Archive
© Holocaust Historical Society September 27, 2021