Jurgen Stroop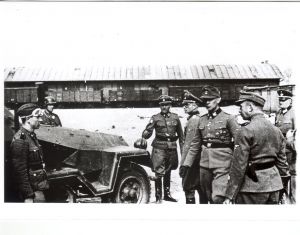 Jurgen Stroop 4th from right – Warschau Umschlagplatz 1943
The son of a policeman, Josef Stroop, was born on 26 September 1895 in Detmold, Germany, but he later changed his name to Jurgen, in honour of his deceased son in 1941. During World War One Stroop served in several infantry regiments at the front and won an Iron Cross 2nd Class. He was also wounded in action. Stroop joined the SS on 1 July 1932 and received SS number 44611, he was admitted into the Nazi Party shortly thereafter on 1 September 1932. Stroop was promoted to SS-Hauptsturmführer on 8 March 1934, to SS-Sturmbannführer on 20 April 1935 and SS-Obersturmbannführer on 20 April 1936.
During the 1930's he attended various leadership courses and commanded several General SS units in Germany proper. He was promoted to SS-Standartenführer on 12 September 1937 and to SS-Oberführer on 10 September 1939. Stroop served in the Sudetenland, after the occupation of Poland in September 1939 Stroop was transferred to Poznan (Posen) as head of the German Selbschutz – self defence units of ethnic Germans.
From 7 July to 15 September 1941 Jurgen Stroop served in combat on the eastern front with the 3rd SS Totenkopf Infantry Regiment of the SS Division "Totenkopf," during the fighting he was awarded a Clasp to the Iron Cross 2nd Class and an Infantry Assault Badge in Bronze. Stroop was then promoted to SS-Brigadeführer on 16 September 1942 and assigned as an Inspector of the Sipo and SD of the Higher SS and Police Leader for Russia South, where he helped secure a key logistical route through October 1942. He then briefly commanded an SS garrison at Kherson before becoming SS and Police Leader for Lemberg (Lvov) in February 1943. From that position he moved to Warsaw on 18 April 1943, on the orders of Reichsführer- SS HeinrichHimmler, in order to help crush the Jewish uprising in the Warsaw ghetto.
Franz Konrad the SS officer in charge of the Werterfassung in the SS and Police Leader Warsaw's Ferdinand von Sammern's headquarters gave testimony that related to the first day of the' Aktion':
A week before Easter 1943 – it was a Sunday morning – SS und Polizeiführer von Sammern convened a meeting of the heads of the Security Police, Obersturmbannführer Hahn, the commanders of the SS units in Warsaw, the commanders of the cavalry and infantry reserve units, the commanders of the Sipo (Security Police) and the Orpo (Regular Police) and the officers in his headquarters (myself among them).
At this meeting we were notified that on Monday he intended to transfer out the Jews who still remained in the Warsaw ghetto. During the discussion about the appropriate time for sending the various SS and police units into action, Brigadeführer Jurgen Stroop entered and announced that he had been appointed to the post of SS und Polizeiführer by order of the Reichsführer- SS.
On the first day of the Warsaw ghetto uprising Stroop took over command of the German forces, replacing Dr Ferdinand von Sammern-Frankenegg, and he produced a detailed report of the operation he commanded to destroy the Jewish residential quarter. Stroop recorded his deeds in a boastful seventy-five page report bound together in black pebble leather which included copies of all his daily communiqués sent to Friedrich – Wilhelm Krüger, HöhereSS- undPolizeiführer Ost (the leading Police official in the General Gouvernement), as well asphotographs with captions in Gothic script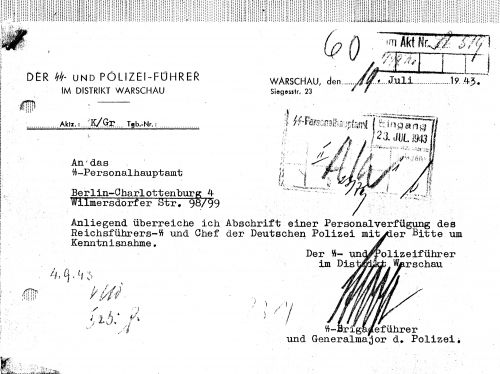 Letter by Jurgen Stroop in July 1943 as SS and Police Leader Warsaw from his personal file

Former SS-Hauptsturmführer Georg Michalsen, who was a member of Odilo Globocnik's Aktion Reinhardt staff, was sent to Warsaw to oversee the transfer of factory enterprises to the Lublin district, recalled his short time in Warsaw, serving under Stroop:
The witness Max Jesuiter stated that Stroop had an outspoken hatred against Jews. If it had gone according to Stroop, not one train with Jews would have left Warsaw, but Stroop would have liquidated all Jews right there.
Michalsen added:
I consider this description as valid. I also was under the impression that Stroop was negatively disposed towards a transfer of Jews and under the circumstances only bent to higher pressures. I also stated that it never happened before Stroop's time that houses were burnt down. But as soon as Stroop arrived, and that was even on his first day, houses were set on fire. I have witnessed myself how people jumped from burning houses. Most probably they died.
After the Ghetto Uprising, Friedrich – Wilhelm Krüger awarded an Iron Cross 1st Class to Stroop on 18 June 1943 for the action at a gala reception in Warsaw's Lazienki Park. Krüger Stroop and other leading personalities in Warsaw drank, sang and rode horses to commemorate the event, Stroop then formally assumed the position of SS and Police Leader Warsaw.
He remained in this position until 8 September 1943, when he was appointed Higher SS and Police Leader for Greece and finally in 1943 Stroop was re-assigned to Wiesbaden as SS Police Leader for Rhein-Westmark. In early May 1945 he was captured by American forces in the town of Rottau in Bavaria, wearing the uniform of an infantry officer and bearing false discharge papers made out to a Captain of Reserve Josef Straub. For nearly two months he kept to the story, that he was a Wehrmacht captain, before finally admitting to being Jurgen Stroop on 2 July 1945.
He was sentenced to death by a US Military court in Dachau in 1947 for the shooting of American airmen but he was extradited to Poland. He was tried in Warsaw in 1951 and he was again sentenced to death and hanged.
Sources
French L Maclean, The Ghetto Men, Atglen PA Schiffer Military History 2001
The Stroop Report published by Martin Secker and Warburg London 1980
Robert S Wistrich, Who's Who in Nazi Germany, Routledge, London and New York 1995.
Richard Raskin, A Child at Gunpoint, Aarhus University Press 2004.
Yisrael Gutman, The Jews of Warsaw 1939-1943, The Harvester Press Brighton 1982
Photograph – Ghetto Fighters House Israel
Document - Yad Vashem
© Holocaust Historical Society 2018