Viktor Brack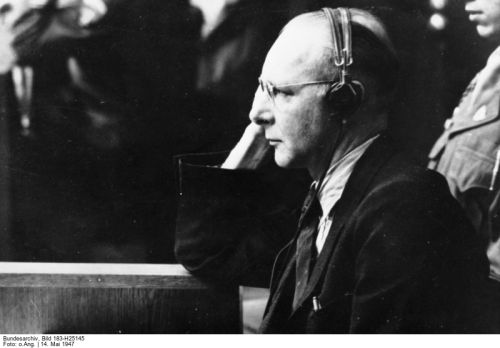 Viktor Brack during the Nurnberg International Military Tribunal - Doctors Trial (Bundesarchiv)

Viktor Brack was born on 9 November 1904, in Haaren, in the Rhine Province. He spent part of his childhood and youth in Munich, and he studied agriculture then economics at the Technical University in Munich. In 1929, Brack joined the National Socialist Party and the SS. Brack who was the son of a doctor and friend of Heinrich Himmler, and he worked as a chauffeur for the future Reichsfuhrer-SS.
In 1936, Brack was appointed head liaison officer with the Department of Health by Philipp Bouhler, though he had no previous medical experience. Subsequently he rose to become Bouhler's deputy and Chief of Section II in the Fuhrer's Chancellery with the rank of Oberdienstleiter. Between December 1939, and August 1941, Brack's office, known as T-4, from its address at Tiergartenstrasse-4 in Berlin, was responsible for the euthanasia programme for murdering more than 50,000 Germans. This murder programme was aimed at the mentally-ill, chronically sick, disabled and for concentration camp prisoners classified as 'unfit for work' as well as undesirable elements and Jews.
Viktor Brack himself personally interviewed and selected personnel for the euthanasia institutes and in March 1941, he offered the services of his network of institutions to Himmler, for the purpose of sterilising 3,000 -4,000 Jews daily in X-ray clinics. Later during 1941, he undertook preparations to set up mobile gassing vans in Riga and Minsk to exterminate Jews who were deemed 'unsuitable for labour.'
Subsequently, he was closely involved in the construction of the death camps and the installation of gas chambers in Poland. He also transferred members of the staff at various euthanasia institutes to serve in Odilo Globocnik's mass murder programme of Polish Jewry, in the death camps of Belzec, Sobibor and Treblinka. He confirmed this in a letter sent to Himmler on 23 June 1942:
'Some time ago I put at the disposal of Brigadefuhrer Globocnik a certain number of men for the accomplishment of his special mission. Following a fresh request on his part, I have again sent him personnel.'
On 20 August 1947, Viktor Brack was sentenced to death at the end of the Doctors' Trial in Nurnberg by an American Military Tribunal, for his role in the euthanasia programme. He was hanged in Landsberg prison on 2 June 1948.
Sources

R.S. Wistrich, Who's Who in Nazi Germany, published by Routledge, London and New York 1995
G. Reitlinger, The Final Solution, published by Sphere Books Ltd, London 1971
Ernst Klee, Euthanasia im Dritten Reich, published by Fischer Taschenbuch, 2010
Tiergarten -4 Association Berlin

Photograph – Bundesarchiv
© Holocaust Historical Society 2018