Bertha Sokolovskaya
Deported from Bialystok Ghetto to Blizyn - August 1943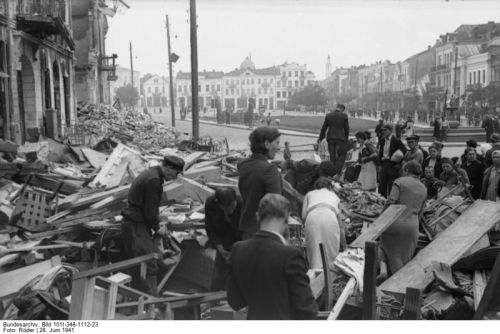 Bialystok - During the German Occupation (Bundesarchiv)

On 16 August 1943, German soldiers entered the Bialystok ghetto and established their headquarters in the Judenrat building. Bertha Sokolovskaya , who was twenty-one years old, recalled the events in a letter to Sir Martin Gilbert, on 14 April 1984:
I went home. At that time I had with me my very sick mother whom I managed to hide with great difficulties during the first raid. I couldn't tell her anything. She began collecting some clothes and was terribly agitated because the hinge of the cupboard came off and she was worried how she could leave without closing it. The scale of the tragedy did not reach my mother's consciousness. It was still day -time and she said, 'Go to the Judenrat, maybe you'll be able to find out something,' and suddenly she added, 'My darling little girl, perhaps you will be saved.'
I went to the Judenrat where the Sonderkommando already were bossing the whole show. Smart, elegant Barasz was trying to ingratiate himself, but I saw for myself that they were no longer speaking to him, they were just ordering him about and kicking him. I went into the building of the Judenrat where all its members were gathered. Everybody was in a great state of agitation. We all finally understood that the end had come. I left the Judenrat and went – no, it's more accurate to say – I joined the group of young people, and we found a bunker where we hid for several days and where preparations were being made for an uprising. We had bottles filled with molten lead. When we were discovered and turned out, we were put against the wall. We thought that we will be shot, but instead we were driven into the general stream of people on the road heading towards Boyary, the eastern railway station on the outskirts of the town, and to the goods trains. It was horrifying. The stream of people were shepherded by barking dogs and were kicked with rifles by the Germans and by the Ukrainian Gestapo dressed in black uniforms. The Ukrainians ordered by their masters in white gloves, did all their dirty works. People who had a right to live walked on the pavement, maybe I am wrong, but I think they were indifferent to us. Our march was long and tortuous. Finally we reached our destination, the large square. After having been sorted out, the goods trains were leaving. I know now that these trains were going towards Lublin – Majdanek, because Treblinka was already destroyed by the Jewish fighters. Panic-stricken, we hung onto each other. We were hit with rifles; we were pushed and shoved like cattle. I saw my aunts and a cousin. They told me that my mother had already left and that she hoped I managed to hide somewhere. The Ukrainians were beating us and were stealing from us. We were lying on the ground, above us a star-studded sky on a warm August night.

Every now and then cries of prayers and screams of 'Hear O Israel' were heard. In the morning they began to separate families. The Ukrainian women kept on laughing sadistically saying, 'Kiss goodbye. You'll never see each other again.' The men separated from the women. I cannot describe the horrific heartrending screams of anguish and weeping. We were forty in the cattle truck, and the train started out and then after a while stopped. Shooting began. We discovered that some of the younger people managed to hide screwdrivers, and opened the engine cabin. Many were killed; some managed to escape to the woods. One of them was Yosif Makovsky, a friend of mine, now living in Israel.
Then the train stopped in Treblinka, it stopped for a long time. We felt the smell of burning. It hung all over Treblinka. We thought that we will be taken there. In desperation one of the girls in the cattle truck squeezed through the little window gap. The Germans caught her and led her into the camp. Finally the train moved, leaving Treblinka. The heat was terrible, we had no water, our mouths were like dry wood. We were insane with thirst. Everyone tried to give the German guards all their valuable possessions for a drop of water. But we pushed each other to be near the little window, and only spilled and lost the precious drops. We went berserk, hitting each other. The train stopped many times. We finally arrived in Lublin. When we were still in Bialystok we were told that girls from previous transports will come to our window and will tell us that we were being sent to work. Indeed that's what happened. But we could not stand it any longer, we decided to commit suicide. There was amongst us a doctor from Lodz, Charnoleskaya, who had a razor and she began slashing our wrists. We were beside ourselves, pushing and shoving and stretching out our hands. She cut one of my wrists and a fountain of blood burst out and I fell. I remember distinctly, it reminded me of Sienkewicz's Quo Vadis. I had no strength left in me to lift myself to have my other hand cut. We were lying on the floor losing blood. Next morning the Germans opened the door. I was alive. Bertha Sokolovskaya had arrived in Blizyn Labour Camp for Jews which was located about 25 miles southwest of Radom
Sources
M. Gilbert, The Holocaust - The Jewish Tragedy, published by Collins, London 1986

Photograph: Bundesarchiv
Dedicated to Sir Martin Gilbert, Jewish historian and writer, who passed away on 3 February 2015
© Holocaust Historical Society 2019