Komarow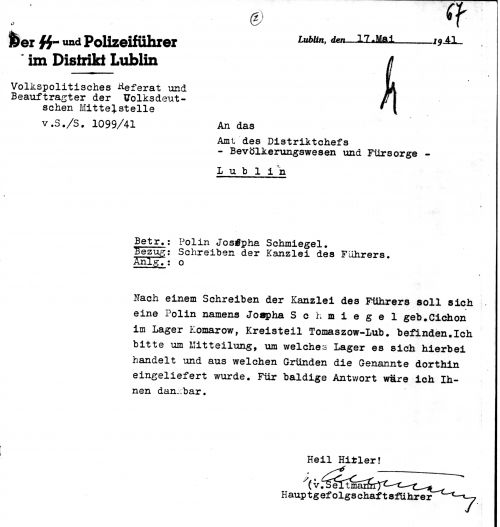 Document re Lager at Komarow inmate who wrote to Hitler's Chancellery - (Holocaust Historical Society)

Komarow is located 62 miles southeast of Lublin. In 1921, the town's population stood at 2,895 of which 1,752 were Jews.
German troops occupied Komarow on September 13, 1939. Some two weeks later they ceded it to the advancing Soviet troops, but after the German-Soviet border agreement the town was occupied once again by the Germans. Approximately 500 to 800 Jews joined the October 8, Soviet evacuation beyond the River Bug.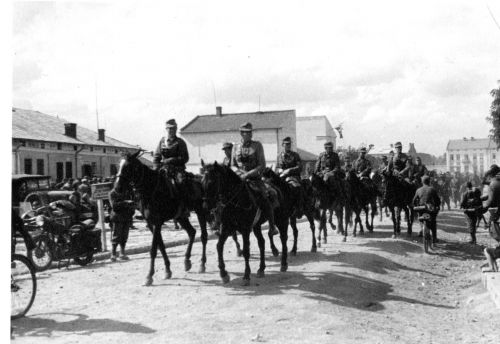 German Troops occupy Komarow (Chris Webb Private Archive)

When the Germans re-occupied Komarow, after the Soviets had left, they appointed a head to lead a local Polish collaborationist administration. Members of a German Gendarmerie post in Tyszowce, some 9 miles away and Polish police in Komarow itself exercised local police authority. Ernst Schulz, assigned to the Tyszowce post before Christmas 1940, was named as the post's commander in June 1941.
In late 1939, the German civilian authority ordered that a Jewish Council (Judenrat) be established. Abram Elbaum was appointed to act as chairman. From April 1941, Elbaum also headed the Komarow branch of the Jewish Self-Help (JSS) organisation. In July 1941, Keilman Fogiel assumed the JSS chairmanship. A Jewish Order Service was also established.
A trained and certified religious Jew - the Shochet - who performed the ritual slaughter of animals in Komarow was arrested for violating prohibitions on kosher slaughtering, and incarcerated in a prison in Zamosc. He was brutally beaten, and he perished from this treatment. Back in Komarow, 20 children attended an illegal cheder, probably organised by Rabbi Szyja Alterman. From the spring until late October 1940, 350 men were interned at labour camps such as Narol and a water drainage camp at Bortatycze.
From 1940, approximately 200 Jewish refugees from in and around Wloclawek, Kolo, Sierpe, Plock and Czestochowa were resettled in Komarow. Local Jews rendered homeless by the German invasion in September 1939, mostly from Krasnobrod, Tyszzowce, Laszczow, and Tomaszow Lubelski, also settled in Komarow. As part of a German plan to reduce the size of the Jewish population in Lublin, approximately 200 Jews arrived in Komarow, from that city, in March 1941. On April 5, 1941, the SS forcibly expelled approximately 400 Jews, considered too impoverished to pay rents, in the soon to be established Zamosc ghetto. Those expelled were virtually all those resettled from Lodz, Wloclawek, Kolo. On May 1, 1941, the SS transferred to Komarow, 250 Jews who had refused to move into the Zamosc ghetto. In September 1941, Fogiel estimated 3,000 Jews resided in Komarow. This figure was made up of 1,200 resettled Jews and 1,800 permanent residents, made up displaced locals from the surrounding areas and 1,000 native Jews. Several hundred Jewish fugitives, from the Warsaw ghetto, who had been unable to make their residence legal, were not included in the above figures.
On October 1, 1941, Kreishauptmann Helmuth Weihenmaier, for the Kreis Zamosc reported that 1,800 Jews resided in Komarow. Because Helmuth Weihenmaier in May 1941, had extended to non-working and impoverished resettlers in Komarow rations from the town of Zamosc, he probably included them in the Zamosc Jewish population. Weihenmaier likely provided the rations to keep Warthegau deportees from returning to Zamosc. In November 1940, the Zamosc Landwirt had refused similar rations to Jews living outside of the town.
Feldman, an ethnic German settler who benefitted during the 1940, expropriation of Jewish owned businesses, employed Jewish craftsmen at his tannery located in Komarow. Other Jewish labourers worked on the Komarow to Zamosc road construction project, which was completed before the German invasion of the Soviet Union in June 1941. Some 1,000 Jews travelled daily to work sites near and in Zamosc, for example, some worked at a sawmill, whilst others worked for two Czech construction firms, the recipients of contracts by the Bauleitung der Luftwaffe, engaged in the construction work to build bases at Labunie and Mokre. Many Jews from Komarow and Zamosc subsequently worked at the Luftwaffe airfield bases either interned there, or in Zamosc itself. In the spring of 1941, children residing in Komarow, went to work for Polish and Ukrainian villagers as domestic servants or farm labourers during the week. They returned home on Saturdays, usually bearing food their employees provided to supplement the wages they paid to the Arbeitsamt - Labour Office.
In the spring of 1941, Ernst Schulz shot and killed, 19-year old Mordechai 'Motel' Temper, remembered by Zvi Sohar, as the first Jewish fatality of German violence in Komarow. Because of a shortage of housing, ethnic German newcomers to Komarow, were assigned rooms in the homes of the wealthiest Jewish families. Required in September 1941, to inform the District Authorities about the locations of Jewish ghettos in his Kreis, Kreishauptmann Helmuth Weihenmaier, excluded Komarow from his list. Two months later in November 1941, Hans Frank, the Governor, imposed the death penalty on the Jews in the Generalgouvernement found without permission outside of their places of registration.
As the Judenrat assigned two to three families to live in the homes of native Jews, overcrowded conditions contributed to a typhus epidemic in May 1941. Another epidemic broke out in September 1941, which claimed many lives, during its lifespan of three months. In October 1941, the JSS established a 30-bed hospital and isolation ward. JSS officials arranged for the transfer of a physician to Komarow, to oversee the medical treatment. In November 1941, the Judenrat ordered regular bathing, and the JSS arranged the funding to heat the mikveh. These measures ended the typhus epidemic, but this proved to be short term and another outbreak took place in January 1942.
Two transports carrying approximately 2,000 Jews from the Theresienstadt ghetto, near Prague, arrived in Zamosc on April 30, 1942, and on May 2, 1942. On May 2, 1942, 729 deportees from the transport designated with the AS designation were transferred to Komarow. The newcomers, mainly Czechs from Prague and Vienna, quickly established a welfare committee and a Jewish Order Service police force. On May 3, 1942, some 2,000 Jews were deported from Komarow to the Sobibor death camp where they perished.
On May 20, or 23, 1942, members of the German Gendarmerie and the SS surrounded Komarow and ordered all the Jews to report to the marketplace. The Germans were assisted by Czech members of the Jewish Order Service to search for fugitives. Those Jews who were employed by the Germans and most Czech newcomers were excluded from the expulsion. The elderly, children, women with dependent children and the unemployed were ordered onto wagons and escorted by German police to Zamosc. Once there they were imprisoned in a barracks at a railway cargo loading dock - known locally as the beet -platform, located between Peowiak and Orlicz - Dreszer Streets.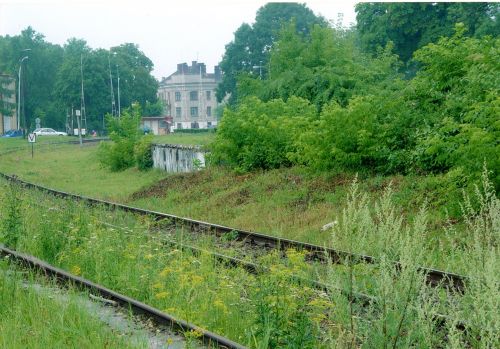 Zamosc - Beet Platform where deportations of Jews took place - 2004

Those expelled from Komarow together with Jews from Zamosc itself were sent to the Sobibor and Belzec death camps, 2,000 to Sobibor and 1, 000 -1,500, to Belzec, where they were murdered in the gas chambers these camps. In Komarow, Gendarmes, led by Ernst Schulz, in June 1942, rounded up members of the Judenrat, and Jews without work permits and executed them.
A remnant ghetto was established in June 1942, for those Jews retained for labour. The 1,500 square meter unfenced 'open ghetto' was located along one-side of the Zamosc -to- Tyszowice road. On July 5, 1942, Keilman Fogiel informed the JSS officials about the 'new ghetto.' Its 1723 inmates, included 650 Czech deportees. Fogiel reported that seven ghetto inmates were already sick with typhus. Two Czech physicians anticipated an epidemic, as the Jews were forbidden to bathe, because the mikveh was located outside of the ghetto boundaries. Polish peasants were forbidden to enter the ghetto to sell food to the Jewish residents, and as a result some of the ghetto inmates died from starvation.
The Jewish ghetto residents also sustained beatings, especially from Ernst Schulz, and on October 5, 1942, he ordered approximately 50 young men and women to the square for municipal cleaning duties. Once there, they were surrounded by a Gestapo unit, and executed. In the same month, on October 15, 1942, German gendarmes from Tyszowice and German police units from Zamosc surrounded the ghetto. Reports state that between October 15, 1942, and October 31, 1942, Gendarmes, Gestapo and SS forces shot the ghetto inmates, as part of a larger group of 2,500 Jews executed in mass graves located just outside Komarow. Accounts differ though, a Polish -Christian eyewitness says, the old, young and sick were killed, the remaining Jews were expelled to the Izbica transit ghetto. On November 10, 1942, 1,000 Jews were deported from Komarow to the Belzec death camp where they were murdered in the gas chambers.
Tried during 1964, in Ellwangen, West Germany, for the murder of 12 Jews in Komarow, including Mordechai 'Motel' Temper, Ernst Schulz received a life sentence.
Sources
Encyclopaedia of Camps and Ghettos 1933- 1945, USHMM, Indianna University Press Bloomington and Indianapolis 2012
Y. Arad, Belzec, Sobibor Treblinka, Indiana University Press, Bloomington and Indianapolis 1987
R.O'Neil, Belzec – Stepping Stones to Genocide, Jewish Gen 2008

Photographs - Chris Webb Private Archive
Document - Holocaust Historical Society
Thanks to Robert Kuwalek

© Holocaust Historical Society 2019