Simon Wiesenthal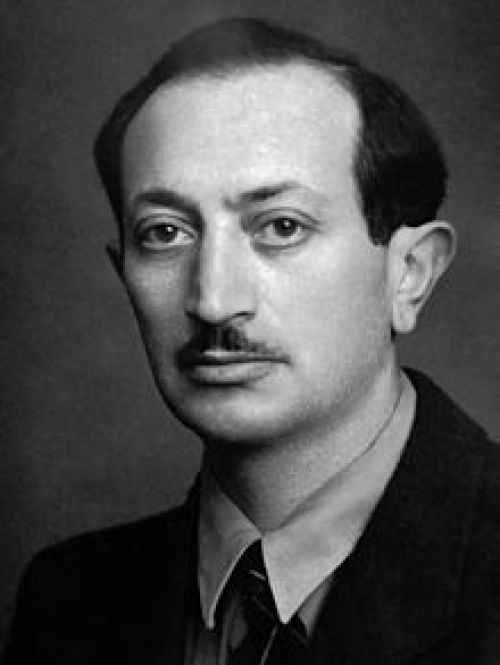 Simon Wiesenthal 1940-1945 Private Archives)

Simon Wiesenthal was born on December 31, 1908, in Buczacz, which is now in the Lvov Oblast area of the Ukraine, to parents Asher and Rosa Wiesenthal. His father Asher was a wholesaler by profession and was called to active service in the Austro-Hungarian Army, and he served on the Eastern Front. He was killed in combat service during 1915. His mother Rosa took the family to Vienna, Austria, when the Cossacks burst into Buczacz during 1915.
Simon Wiesenthal attended a primary school in Bauerlgasse, Vienna, but the family returned to Buczacz, as his mother wanted to re-marry. She married Isack Halperin. Simon Wiesenthal graduated from the Humanistic Gymnasium in Buczacz during 1928, and he applied to the Polytechnic Institute in Lvov. He was barred admission because of restrictions to Jewish students. Denied access in Lvov, Simon Wiesenthal was accepted by the Technical University of Prague, from which he obtained a degree in architectural engineering in 1932. In 1936, Simon Wiesenthal married Cyla Muller, whom he had known from school and he found employment in an architectural office in Lvov. However, their happiness was short lived.
The Russian forces occupied Lvov, as part of the Nazi -Soviet 'non-aggression' pact, which divided conquered Poland between the two major powers. Simon Wiesenthal's step-father Isack Halperin was arrested by the Soviet NKVD - Soviet Secret Police and he eventually died in prison, and his step-brother was also murdered. Simon Wiesenthal changed his job and became a mechanic in a bed-spring factory. Life under the Soviets was tough, Simon Wiesenthal bribed an NKVD commissar to save his wife, his mother and himself from deportation to Siberia.
Following the German invasion of Russia on June 22, 1941, the Soviet forces fled from the city and the Germans marched into Lvov on June 29,1941, and immediately local Ukrainians started pogroms to attack the Jewish population. Simon Wiesenthal was hiding in a cellar on July 6, 1941, when he was arrested along with approximately one hundred professional people, including lawyers, doctors and teachers, and they were taken to the Brygidki prison. Those arrested were ordered to stand in several rows facing the wall and to fold their arms behind their necks. A Ukrainian started the execution by shooting from the left end of the first row, whilst two of his helpers flung the bodies into wooden boxes, that were dragged away.
The executions lasted throughout the afternoon, the church bells rang and the Ukrainians halted the slaughter with the words, 'Enough for now, vespers.' Simon Wiesenthal stood ten yards from the executioner. A Ukrainian he knew, by the name of Bodnar, wearing an armband of a Ukrainian auxiliary policeman, managed to extricate Wiesenthal from the prison claiming he was a Soviet spy. He sheltered Wiesenthal for a short while.
Deportations from the Lvov ghetto to the nearby Belzec death camp commenced on April 1, 1942. Mass deportations to Belzec continued that summer and the second mass deportation took place between August 10 - August 23, 1942. Within this period Simon Wiesenthal's mother Rosa, then sixty-three years of age was included in the transports, and she probably perished in the gas chambers of Belzec. His wife's mother was shot dead shortly afterwards, on the steps of her house by a member of the Ukrainian auxiliary police.
Simon Wiesenthal and his wife were incarcerated in the Janowska Camp, where they both worked in the Ostbahn Repair works, and he was able to make contact with the local resistance, and in exchange for plans of the railroad station, Cyla was provided with false papers, using the alias Irene Kowalska. The Ostbahn Repair Works came under the control of a German Railway official Heinrich Guenthert, and Wiesenthal's immediate supervisor was Chief Inspector Adolf Kohlrautz. These two men treated their Jewish workers humanely, however, things were about to change.
On April 20, 1943, this safe haven for Simon Wiesenthal and three other workers ended, for they were collected in the early morning and taken to the Janowska Camp. This was despite Guenthert and Kohlrautz protesting, the SS men ignored their pleas, as they wanted to murder some Jews, in honour of Adolf Hitler's birthday. The twenty or so Jews selected were made to stand in the so-called 'Tube,' a 2-metre wide corridor between barbed-wire fences. At the end of the 'Tube' was a sandpit into which the bodies fell. Simon Wiesenthal was once again rescued from certain death by his supervisor Adolf Kohlrautz, who drove to Janowska on Guenthert's instructions and rescued Wiesenthal from the 'Tube' by demanding the return of their painter, in order to paint a banner celebrating the Fuhrer's birthday.

During 1943, his supervisor Kohlrautz encouraged Simon Wiesenthal to escape and he issued him with a pass authorising him to buy painting materials in Lvov. Wiesenthal easily lost his Ukrainian guard by leaving a stationery shop by the back door. He was able to hide in a friend's house, until one evening during April 1943, when a German soldier was shot dead in the street, and SS troops and Gestapo men searched adjacent houses for weapons and found Simon Wiesenthal instead. On April 15, 1943, Simon Wiesenthal attempted to commit suicide by slashing his wrists with a concealed razor blade. The Gestapo nursed him back to health, in order to execute him, which was often their way. One day a Soviet aircraft was shot down over Sapieha Street and exploded the Gestapo building, and during the smoke and confusion Simon Wiesenthal was able to run across the yard and mingle with another group of Jews destined for deportation elsewhere.
This elsewhere destination turned out to be Janowska, and its brutal commandant SS- Hauptsturmführer Friedrich Warzog welcomed Simon Wiesenthal back, with the words, 'One of my regulars' and the 'Prodigal Son returned home.' Simon Wiesenthal and some other inmates decided to escape from Janowska and on the night of July 16, 1944, as the Russian forces advanced on Lvov. One of his fellow escapees was called Lola, whose sister had sheltered Simon Wiesenthal and her brother -in-law Josef Busch, before they were discovered in April 1943. One of the escaping Jews, possibly one called Moldauer cut a hole in the barbed wire. Lola and some others managed to escape, but the guards spotted the escape attempt and opened fire. Simon Wiesenthal returned to his barracks and the Nazis later assembled 27 inmates at the 'Tube' destined for execution.
After waiting for hours, Warzog made a surprise announcement, that the SS and Police Leader for the Galicia District had decided to 'save their lives, and that they would be leaving Janowska with their SS guards.' Indeed this proved to be the case, shortly afterwards the SS evacuated the prisoners from the camp, and so began the trek westwards; this was an arduous journey through a number of camps such as the Plaszow Labour camp in Krakow, Gross Rosen and Buchenwald Concentration Camps.
From Buchenwald Concentration Camp, some three thousand inmates were loaded into open lorries on February 3, 1945, and were transported to the Mauthausen Concentration Camp, near Linz in Austria. Four days later the convoy reached Mauthausen. Only 1,200 of the 3,000 men who had left Buchenwald were still alive, one of them was Simon Wiesenthal. He lay in Hut B of the aptly named 'death block' waiting for the inevitable. On May 5, 1945, weighing only about 110 pounds, he staggered outside the block to greet the first American tank that arrived to liberate the camp.

Having survived the Holocaust, a new chapter started in the life of Simon Wiesenthal. He sought out the American officer-in-charge, to raise a complaint and stepped through a door marked 'War Crimes' and shortly afterwards began working there. Simon Wisenthal's immediate supervisor was Captain Taracusio, a professor of International Law in Cambridge, Massachusetts, who greatly influenced Simon Wiesenthal's views about dealing with War Criminals. Simon Wiesenthal did not seek revenge, he sought justice; he began gathering and preparing evidence on Nazi atrocities for the War Crimes Section of the United States Army. He also worked for the Army's Office of Strategic Services and Counter-Intelligence Corps and headed the Jewish Central Committee of the American Zone of Austria, which was a welfare and relief organisation.
Late in 1945, he and Cyla were re-united; each thought the other had died and in 1946, their only child Paulinka was born. Wiesenthal ended his association with the United States of America Army in 1947 and with thirty volunteers he opened the Jewish Historical Documentation Centre in Linz, Austria. The purpose of the centre was to assemble evidence for future War Crimes trials, but with the onset of the Cold War between the United States of America and the Soviet Union intensified, interest in prosecuting Nazi war criminals waned and the volunteers grew dispirited. In 1954, the office in Linz was closed and the evidence had collected was passed to the archives in Yad Vashem, in Israel, with the exception of his files regarding Adolf Eichmann, the RSHA Jewish expert.
In April 1959, Simon Wiesenthal noticed an obituary notice for Frau Maria Eichmann, in a Linz newspaper, and amongst the mourners listed was Vera Eichmann, Adolf Eichmann's wife. In addition to this during February 1960, a newspaper carried the death notice of Eichmann's father Adolf Karl, Vera Eichmann and her sons were listed amongst the mourners. Wiesenthal passed this information onto the Israeli government, who were now pursuing Adolf Eichmann with a lot more vigour. Eichmann was kidnapped in Buenos Aries on May 11, 1960, and brought to Israel to stand trial for War Crimes. Eichmann was found guilty and was executed in Ramleh prison, in Jerusalem on May 31,1962.
Simon Wiesenthal encouraged by the capture and justice meted out to Adolf Eichmann, re-opened the Jewish Documentation Centre, relocated to Vienna, and concentrated solely on the hunting of Nazi War Criminals. Among the high priority cases was Karl Silberbauer, the Gestapo officer who arrested Anne Frank, the fourteen year old German-Jewish girl, who was hiding in a secret Amsterdam attic along with her family and others between 1942-1944. Anne and the others were deported to Auschwitz, and she eventually died in Bergen-Belsen Concentration Camp in March 1945. Her father Otto Frank, the only survivor, published Anne's diary after the war. Her diary published in 1947, became a symbol against anti-Semitism, and Simon Wiesenthal located Karl Silberbauer, who was working as a police inspector in his native Austria, during 1963. Silberbauer confessed when confronted saying, 'I arrested Anne Frank.' He was never tried as a war criminal and died in 1972.
The next high profile Nazi War Criminal that Simon Wiesenthal helped bring to justice was Franz Stangl, the former commandant of Sobibor and Treblinka death camps in Poland. Simon Wiesenthal was alerted to the fact that Stangl was living in Brazil, working in a factory producing Volkswagen vehicles. Stangl was arrested in Sao Paulo, Brazil on February 28, 1967, and was extradited to the then West Germany. He was tried for the co-responsibility for the mass murder of 900,000 Jews at Treblinka death camp. He was found guilty and sentenced to life imprisonment by the Dusseldorf court, on October 22, 1970. Franz Stangl died of heart failure in Dusseldorf prison on June 28, 1971.
The same year that Stangl was arrested, Simon Wiesenthal published his first book - 'The Murderers Among Us' and whilst in America to promote the book, he announced that he had located Mrs Hermine Ryan, formerly Braunsteiner, a housewife living in Queens, a suburb of New York. Braunsteiner was an SS guard at the Lublin Concentration Camp in Poland and had supervised the murder of hundreds of children at the camp during the Second World War. On August 6, 1973, Hermine Ryan was extradited from the USA and taken to West Germany, to stand trial for War Crimes committed in Lublin during the war. The trial opened in Dusseldorf where ten male and five female former camp guards on November 26, 1975. The trial dragged on for five long years and on June 30,1981, Hermine Ryan was sentenced to life imprisonment.
It is remarkable to think that Simon Wiesenthal with a small staff of four people, in a sparsely furnished three-room office, could track down so many war criminals. In this work he was assisted by a vast informal international network of friends, and colleagues. When his painstaking work is complete, he hands the dossiers over to the appropriate authorities. If they do not pursue the cases with vigour, then he sought out the media, often with outstanding results.
For his work Simon Wiesenthal was honoured by many Governments, for his unceasing work on bringing War Criminals to face justice. He was awarded decorations from the Austrian and French resistance movements, the Dutch Freedom Medal, the Luxembourg Freedom Medal, the United Nations League for the Help of Refugees Award, the United States of America Congressional Gold Medal, presented to him by the United States President Jimmy Carter in 1980, and the French Legion of Honour, which he received in 1986.
Simon Wiesenthal acted as a consultant for the film 'The Odessa File' released by Paramount in 1974 and 'The Boys From Brazil' released by Twentieth Century Fox in 1978. Also in 1981, the Wiesenthal Centre produced the Academy Award winning documentary 'Genocide' narrated by Elizabeth Taylor and Orson Welles, which was introduced by Simon Wiesenthal.
Hunting war criminals carries some risks and Wiesenthal received numerous anonymous death threats and insults. In June 1982, a bomb exploded at the front door of his house, causing a great deal of damage, fortunately no one was hurt. Since then Wiesenthal's house and office were guarded by armed policemen. One German and several Austrian neo-Nazis were arrested for the bombing. The main perpetrator, a German, was sentenced to serve five years in prison. Wiesenthal said, 'When history looks back I want people to know the Nazis weren't able to kill millions of people and get away with it.'
Simon Wiesenthal died on September 20, 2005, at his home in Vienna, aged ninety-six years old.
Sources:
Encyclopaedia of the Holocaust - Israel Gutman (Ed) - New York 1990.
Simon Wiesenthal, Justice Not Vengeance, Weidenfeld and Nicolson, London 1989
Anne Frank in the World, Anne Frank Stichting, Amsterdam 1985
Tim Flynn and Victor Smart - www. HolocaustResearchProject.org
National Archives, Kew

© Holocaust Historical Society 2018